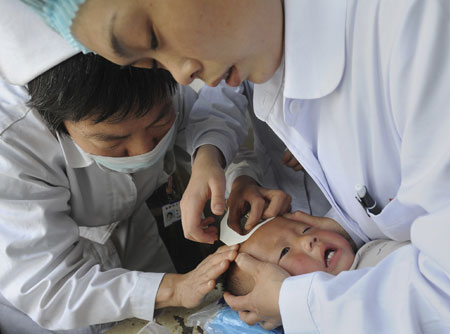 A child who is infected with a kind of intestinal virus, identified as enterovirus 71, or EV71, receives medical treatment at a hospital in Fuyang, Anhui province April 29, 2008. [Agencies]
HEFEI -- The number of cases of hand-foot-mouth disease in Fuyang, a city in the eastern province of Anhui, rose to 3,736 as of early Saturday from 3,321 on Friday, local authorities said.
So far, 4,529 children have been sickened by the virus, known as enter virus 71, or EV71, in 15 cities in Anhui. The cities with the most cases were Fuyang, Huainan, Bozhou, Bengbu and Hefei, a provincial health department spokesman said.
Related readings:


 Virus infection hits 2,477, kills 20


 Virus under control, but 'will spread'


 China to step up monitoring of EV71 virus after fatal outbreak


 Daily reporting on virus installed in East China
Wang Jinshan, secretary of the Provincial Committee of the Communist Party of China, visited hospitals in Fuyang on Friday and called for a long-term system to prevent outbreaks of major infectious diseases.
Forty-five medical specialists dispatched by the Health Ministry and the provincial health department have arrived in Fuyang.
The province has upgraded its public health emergency status from class three to class two, which means the provincial government can quarantine patients and control movements in and out of Fuyang.
EV71 can cause hand, foot and mouth disease that usually starts with a slight fever followed by blisters and ulcers in the mouth and rashes on the hands and feet.
It can also cause high fever, meningitis, encephalitis, pulmonary edema and paralysis in a sma
More Efforts to Control the Infectious Diseases
China's Ministry of Health (MOH) has urged local health bureaus to step up the prevention and control of infectious diseases ahead of the Olympics.
The MOH issued a circular on Saturday that ordered local bureaus to do their best to prevent and control infectious diseases, since mass outbreaks could easily occur at this time of year.
Besides the hand, foot and mouth disease (HFMD) that killed 22 children in eastern Anhui Province, the MOH ordered bureaus to increase surveillance of plague, cholera, hepatitis A, typhoid fever, diarrhea, pneumonia, malaria and meningitis.
Despite the overall progress made in controlling infectious diseases, epidemics have still broken out repeatedly in some regions, especially after unusual weather and population movements, the circular said.
Since spring, epidemics of HFMD, hepatitis A and measles have broken out in several counties, according to the circular.
All local health bureaus should give top priority to the prevention and control of infectious diseases especially in rural areas so as to protect public health ahead of the Olympics, the circular read.
It demanded that hospitals and local health bureaus make timely reports of infectious diseases. Concealment or failure to report such cases would be penalized, it said.
Cases to Rise
The ministry forecast Saturday that cases of hand-foot-mouth disease (HFMD) would possibly increase in the following months since June and July are the peak seasons for the disease.
This year, more incidents of HFMD, caused by Enterovirus 71, or EV71, were reported in Singapore and China's Taiwan region compared with the same period last year. In China's mainland, more cases were also reported in Anhui and other provinces, according to the ministry.
The ministry has issued the latest guide on HFMD prevention and control. The guide, posted on the ministry's website, lists detailed information on HFMD origin, symptoms, prevention and control.
The ministry said more training on HFMD diagnosis and treatment would be given to pediatricians.
A suspected death case of hand-foot-mouth disease was reported early Saturday morning in south China's Guangdong Province.
On Friday, local health authorities of central Hubei Province announced 340 HFMD cases were discovered, but no deaths were reported.
EV71 can cause hand, foot and mouth disease that usually starts with a slight fever followed by blisters and ulcers in the mouth and rashes on hands and feet.