Chinese President Hu Jintao urged college students to turn their patriotic passion into concrete actions of studying hard and contributing to the upcoming Olympic Games during a visit to Peking University on Saturday.
Hu called upon the 110-year-old elite institution of higher learning on the eve of its anniversary, extending congratulations and greetings to the students, faculty and alumni.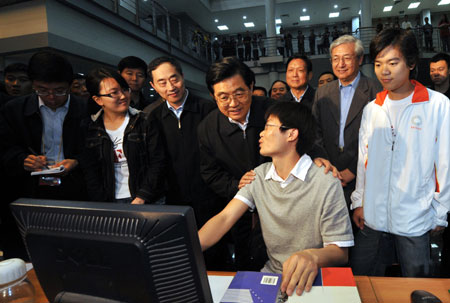 Chinese President Hu Jintao (C) talks to a student in the library of Peking University on its 110 anniversary in Beijing May 3, 2008. Hu urged the students to turn their patriotic passion into concrete actions of studying hard and contributing to the Olympic Games. [Xinhua]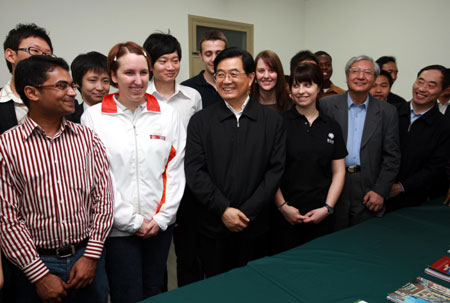 Chinese President Hu Jintao (C) talks to international students of Peking University on its 110th anniversary in Beijing May 3, 2008. [Xinhua]
The President joined in students at the university library, shaking hands and chatting with them.
"College life is the golden time in a person's life. You should make the most of the time to study hard, think hard and practise hard," he said. "You should also actively engage in social activities so as to not only learn the knowledge but also improve your ability to serve the country."
He said students should turn patriotism into "actions of studying hard, working for the coming Olympic games, and improving yourselves to meet the needs of the country and people."
His remark found an echo in many students. "I know that patriotism is not just in words but also in action. What we should do now to love our country is to study hard," said Yang Zhehao, a postgraduate student from the university's College of Marxism.
"I am looking forwards to the coming Olympic Games and wish to contribute my own efforts to it," he said.
Hu also dropped in at dormitories of foreign students studying in the university. The university has developed academic exchanges with more than 200 universities from 50 countries and regions. Around 5,000 foreign students are studying on the campus now.
"You came to Peking University from various countries with interests in the Chinese culture. I sincerely welcome you," he told the visiting scholars.
He said he hopes foreign students and their Chinese classmates could help each other and build up friendship and become a bridge of friendship between China and other countries.
Learning that a number of foreign students have joined in volunteer programs for the Beijing Olympic Games, he said, with help from foreign friends, China will host a "successful, unique and high-level" Olympiad.
The President also told university president Xu Zhihong and other faculty that elite education institutions like Peking University should bear the responsibility of making key scientific breakthroughs and foster more talents for the country.
The Peking University should build itself a world-class institution of higher learning with wide perspective, open mind and hard work, he said.
"Peking University has shared the fate of our country and wrote an outstanding history for itself in the past century. I am glad to see that it has passed on its remarkable traditions," he said.
As one of China's oldest university, the Peking University had played an important role in the country's revolutionary history. It was the center of the Chinese New-Culture Movement in the early 20th century and the earliest base for Marxism in China.
Hu's visit has made a stir on the campus. The campus internet forum was flooded with posts from students, some reporting face-to-face contacts with the President, while others expressing sorrow for not having the chance.
"I was excited but not nervous, because he's very nice and amiable," said Meng Fei, a postgraduate student from the university's International College for Chinese Language Studies, describing her talk with the President.