TOKYO - It's a small, exclusive restaurant in an idyllic park - and rich in the symbolism of Sino-Japanese ties.
It was also an appropriate setting for Japanese Prime Minister Yasuo Fukuda and President Hu Jintao to get to know each other better in an informal atmosphere.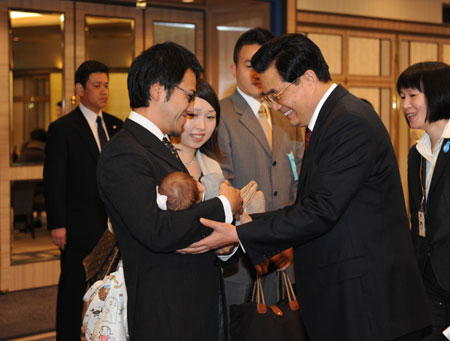 Chinese President Hu Jintao (2nd right) greets the kin of Japanese friends, one of whom is Akimitsu Mukai (holding his baby) and his wife Emi (3rd left) at a Tokyo hotel on Wednesday. [Xinhua] 
Click for More Photos
Before their formal meeting on Wednesday, and a banquet at Fukuda's house tomorrow, the Japanese leader played host to the Chinese president at a venue where his father Takeo Fukuda, Japan's prime minister from 1976 to 1978, got married.
The restaurant itself is standing testimony to the friendship between its former owner Shoukichi Umeya and Sun Yat-sen, the "Father of Modern China".
Sun married Soong Ching Ling at the restaurant in 1914.
Hu, who arrived in Tokyo yesterday on the first visit by a Chinese president in a decade, is on a five-day trip as relations between the two countries improve.
Hu, who visited Japan as a leader of a youth delegation in the 1980s, said he was sorry about the death of Ling Ling, Japan's oldest panda, and promised to lend Tokyo's Ueno Zoo a pair of pandas.
And Fukuda raised his glass several times toasting to a successful Olympic Games.
Foreign Ministry spokesman Liu Jianchao said the two leaders enjoyed a relaxed dinner.
Matsumoto Rou, a 105-year-old three-story restaurant, served French cuisine, for which it is famous in the city, on the third floor.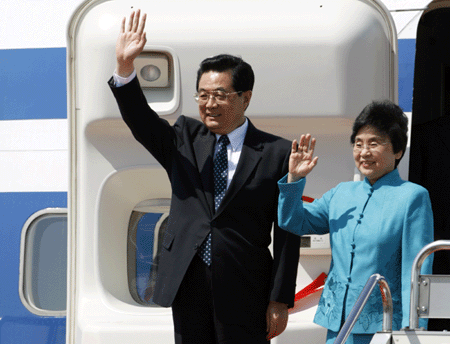 Chinese President Hu Jintao and his wife Liu Yongqing arrive in Tokyo, Japan, May 6, 2008. Hu began his five-day "warm spring" trip to Japan, aimed at boosting the strategic and mutually beneficial relationships between the two countries. [Agencies] 
The piano which Soong Ching-ling played when she and her husband stayed with Umeya was moved from the lobby to the second floor, which was transformed into an exhibition hall.
Ayano Kosaka, a great granddaughter of Umeya, pointed out to Hu the letters, photos and other articles belonging to Sun, Soong and Umeya the restaurant has preserved.
Tetsurou Kosaka, Ayano Kosaka's husband, now takes care of Matsumoto Rou.
The dining rooms on the three floors overlook one of Tokyo's most famous parks and is an oasis in the center of the bustling city.
The restaurant, which serves traditional yoshoku (Japanese adaptation of Western dishes) on the first floor, is popular with political dignitaries including former Chinese ambassadors to Japan Wu Dawei and Wang Yi.
At his first dinner in Japan, Hu got a taste of the old friendship between the two countries. This was the theme for the first day of his visit - he talked with the descendents of several deceased Japanese political figures including late prime ministers Tanaka Kakuei and Masayoshi Ohira.
China is grateful to the Japanese who contributed to a friendly relationship between the two countries, Hu said.