YANGON - Hungry crowds of survivors stormed a few shops that opened on Wednesday in Myanmar's devastated Irrawaddy delta, the UN said, with little aid reaching the area since a weekend cyclone killed 22,980 people.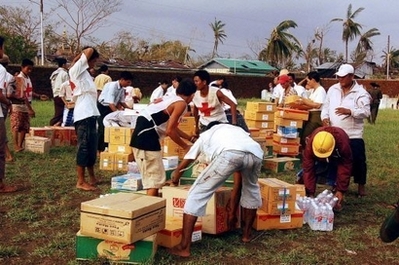 Red-Cross staff arrange relief goods including medical supplies in Yangon. The death toll from the Myanmar cyclone could top 100,000, the top US diplomat in the country said Wednesday, as thousands of shell-shocked survivors emerged from the flood waters, desperate for food. [Agencies]
Corpses can be seen floating in salty floodwater and witnesses said survivors tried desperately to reach dry ground on boats. The United Nations said as many as 1 million people have been made homeless.
"Basically, the entire lower delta region is under water," Richard Horsey, the Bangkok-based spokesman for the UN Office for the Coordination of Humanitarian Aid, said.
"This is a major, major disaster we're dealing with," he said.
Related readings:


 Chinese relief materials arrive in Myanmar


 Myanmar cyclone toll climbs to nearly 22,500


 Chinese president expresses sympathies to cyclone-hit Myanmar


 Myanmar cyclone stirs more rice supply fears


 Myanmar welcomes foreign aid for cyclone relief
Another 516 people were confirmed death in the violent cyclone storm Nargis that swept Myanmar's five divisions and states on last Friday and Saturday, bring the death toll to 22,980, state radio reported Wednesday night, the fourth day in the aftermath of the disaster.
Aid workers have started distributing essential relief supplies in the region, including water purification tablets, mosquito nets, plastic sheeting and basic medical supplies. But heavily flooded areas are accessible only by boat, with helicopters unable to deliver supplies there, he said.
China shipped $500,000 worth of food, tents and blankets to Yangon yesterday.
The supplies represent half of China's commitment thus far to its neighbor. Beijing has also pledged $500,000 in cash to help Myanmar recover from the cyclone.
The 66 tons of supplies arrived aboard a Boeing 747-400 aircraft and were dispatched by the Red Cross society in Yunnan province, which borders Myanmar.
A Red Cross organizer in the Yunnan capital of Kunming said yesterday that more relief aid could follow.
The UN World Food Program has said that as many as 1 million people may have been left homeless, with some villages almost totally destroyed and vast rice-growing areas wiped out.
The Irrawaddy delta is considered Myanmar's rice bowl.
Aid groups are struggling to deliver relief goods.
"The most urgent need is food and water. Many people are getting sick," said Andrew Kirkwood, head of the Save the Children aid group in Yangon.
"The whole place is under saltwater and there is nothing to drink. They can't use tablets to purify salt water."
The group has distributed food, plastic sheeting, cooking utensils and chlorine tablets to 230,000 people in the Yangon area, he said.
Trucks were sent to the delta yesterday carrying rice, salt, sugar and tarps.
A Yangon resident who returned home from the area said people have been drinking coconut water because of a lack of safe water.
Local aid groups have been distributing rice porridge, which people have had to receive in dirty plastic shopping bags because all of their kitchenware has been lost, he said.
In Geneva, the United Nations said Myanmar has authorized an airplane to take UN aid supplies to cyclone victims.
But permission is still pending for a UN coordination team to accompany the flight.
UN spokeswoman Elisabeth Byrs said UN staff in Bangkok are also awaiting approval of visas so they can go to Myanmar to assess the damage.
State television news quoted Yangon official General Tha Aye yesterday as reassuring people that the situation was "returning to normal".
But city residents are facing new challenges as markets double the prices of rice, charcoal and bottled water.
Electricity has been restored in a small portion of Yangon but most residents, who rely on wells with electric pumps, still have no water.
Britain has pledged $9.8 million and the US has offered more than $3 million in aid. President George W. Bush said Washington is prepared to use the US Navy to help search for the dead and missing.
Australia, South Korea, Indonesia have also pledged millions of dollars worth of aid to Myanmar.