NEW YORK - Oil prices briefly surged to a record high above 126 dollars on Friday, driven into uncharted territory by speculators trying to take advantage of global supply concerns, analysts said.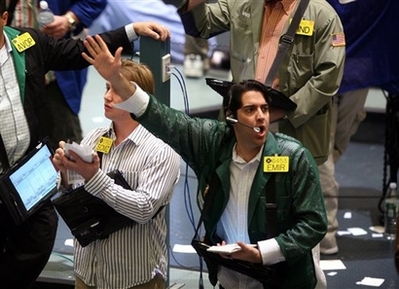 Traders work the Crude Oil trading pit at the New York Mercantile Exchange Friday, May 9, 2008, as oil rose above $126 a barrel for the first time Friday. [Agencies] 
Oil prices have rocketed to fresh record highs every day this week in reaction to unrest in key producer Nigeria and other ongoing supply worries.
New York's main oil futures contract, light sweet crude for June delivery, spiked as high as 126.25 dollars in intra day trading before closing at 125.96 dollars, marking a sharp gain of 2.27 dollars from Thursday's closing value.
In London, Brent crude oil briefly hit an all-time peak of 125.90 dollars. The contract subsequently settled up a strong 2.56 dollars at 125.40 dollars.
Sucden analyst Michael Davies said there was "keen interest in the oil market by the (investment) funds, which are currently being attracted by oil's rapid price appreciation this year.
"This probably explains the move higher over the last few days," he said.
World oil prices have rocketed 25 percent since the start of 2008 and have doubled in the past 12 months from around 62 dollars.
Oil values vaulted above the psychological 100-dollar mark in January and have since jumped above 120 dollars.
Unrest and militant attacks targeting oil company infrastructure in Nigeria, Africa's largest crude producer, have also contributed to the price spikes, analyst say.
Prices continued to bolt higher on Thursday after the OPEC cartel insisted the market was well-supplied and driven by speculators rather than by underlying demand.
OPEC Secretary General Abdalla Salem El-Badri said Thursday that there was no shortage of crude, brushing aside US calls for higher output to dampen runaway prices.
"There is clearly no shortage of oil in the market," El-Badri said in a statement.
The 13-member Organisation of the Petroleum Exporting Countries produces about 40 percent of the world's oil, with current output at about 32 million barrels per day.
El-Badri also maintained OPEC's stance that oil market volatility has been driven by financial market developments and the increased dabbling by speculative investment funds in the oil market.
"The turmoil in some global equity markets and the considerable depreciation in the US dollar have encouraged investors to seek better returns in commodities, particularly in the crude oil futures market. This has driven prices higher," he said.
The weak dollar has boosted demand for dollar-priced commodities, such as oil, because it encourages demand from foreign buyers.