BEND, Ore. -- Barack Obama began sketching the outlines of his expected presidential contest against Republican John McCain on Saturday, saying the fall election will be more about specific plans and priorities than about questions of political ideology or who is more patriotic.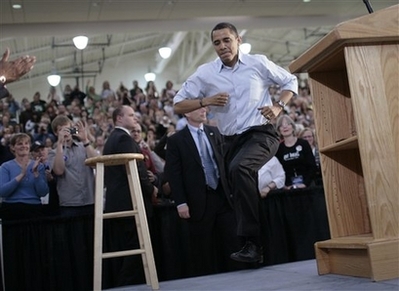 Democratic presidential hopeful, Sen. Barack Obama, D-Ill., arrives at a town hall-style meeting in Bend, Ore., Saturday, May 10, 2008. [Agencies]
Barely mentioning Democratic rival Hillary Rodham Clinton, Obama said he was open to campaigning with McCain in "town hall" events. But he also warned that controversial issues such as McCain's ties to the Keating Five savings and loan scandal are fair game, and he called McCain's proposal for a temporary halt in the federal gasoline tax a pander and a gimmick.
He did not mention that Clinton supports a similar plan.
Obama also said he soon will campaign in Michigan and Florida, two battleground states whose Democratic primaries were essentially nullified by party disputes, angering many voters.
Saying he still has not secured the nomination, Obama nonetheless entertained several questions about the likely outlines of a contest against McCain. As he campaigned in Oregon, whose primary is May 20, Obama picked up four superdelegate endorsements, erasing Clinton's once-substantial lead among the party leaders who will determine the nominee.
Many party leaders feel it is only a matter of time before the former first lady must concede defeat. But Clinton forged ahead Saturday, holding a fundraiser in New York.
"Let's keep going, stay with me, this is a great adventure and we're going to make history," she told the crowd.
Speaking with reporters in Bend, Ore., Obama brushed aside suggestions that the fall campaign may be largely about his race, liberalism or patriotism.
"In a contest between myself and John McCain," he said, "there is going to be a very clear choice on policy that I don't think is going to have to do with ideology and who theoretically is more liberal or who's more conservative. I think it is going to have to do with who has a plan to provide relief to people when it comes to their gas prices, who has a real plan to make sure that everybody has health insurance, who's got a real plan to deal with college affordability."
"So rather than an abstract set of questions about, 'Is he too liberal, is he too conservative, how do voters handle an African American, et cetera,' I think this is going to be a very concrete contest around very specific plans for how we improve the lives of Americans and our vision for the future," he said.