Yangon, Myanmar - A Red Cross boat carrying rice and drinking water for cyclone victims sank Sunday, while the death toll jumped to more than 28,000.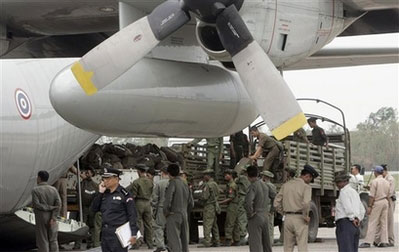 Myanmar soldiers unload bags of supplies aid, donated by Thai King Bhumibol Adulyadej, from a Thai military plane onto a truck at Yangon airport in Myanmar Sunday, May 11, 2008. More food reached Myanmar's hungry cyclone victims as roads were cleared of fallen trees.  [Agencies]
The double-decker boat that sank was carrying supplies for more than 1,000 people and was the first Red Cross shipment to the disaster area, the International Federation of Red Cross and Red Crescent Societies said. All four relief workers on board were safe, it said.
"This is a great loss for the Myanmar Red Cross and for the people who need aid so urgently," said Aung Kyaw Htut, the distribution team leader of the Myanmar Red Cross.
The sinking was the latest setback for distribution of aid following Cyclone Nargis. The boat was making the 12-hour journey from Yangon to Mawlamyinegyun when it hit a submerged tree trunk and began taking water near Bogalay town, which was extensively damaged by the cyclone, the IFRC said.
The boat was carrying 100 bags of rice, drinking water, water purification tablets, and other goods. Some relief items were saved and will be transported by foot or bicycle to the nearest town to await onward shipment, it said.
The International Federation's disaster manager in Yangon, Michael Annear, described the sinking as "a big blow."
"Apart from the delay in getting aid to people we may now have to re-evaluate how we transport that aid," he said.
Also Sunday, Myanmar's state television said that the cyclone's death toll has gone up by about 5,000 to 28,458. The number of missing was reduced to 33,416. International aid groups, however, say that the death toll could eventually top 100,000 as humanitarian conditions worsen.