BERNE - UN agencies and the World Bank pledged on Tuesday to set up a task force to tackle an unprecedented rise in global food prices that is threatening to spread social unrest.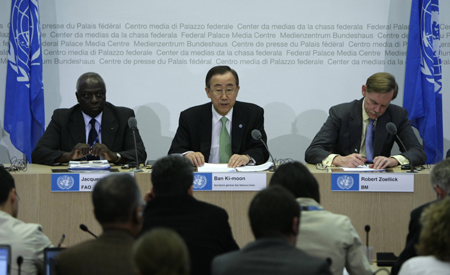 Director-General of Food and Agriculture Organization of the United Nations Jacques Diouf, UN Secretary-General Ban Ki-Moon and World Bank President Robert Zoellick (L-R) attend a news conference in Bern April 29, 2008. [Agencies] 
The international bodies called on countries not to restrict exports of food to secure supplies at home, warning that could make the problem worse.
"We consider that the dramatic escalation in food prices worldwide has evolved into an unprecedented challenge of global proportions," the United Nations said in a statement.
This had become a crisis for the world's most vulnerable people, including the urban poor, it said after a meeting of 27 international agency heads in the Swiss capital, Berne, to chart a solution to food price rises that have caused hunger, riots and hoarding in poor countries.
"Though we have seen wheat prices fall over the last few days, rice and corn prices are likely to remain high, and wheat relatively so," World Bank President Robert Zoellick told a joint news conference.
Higher costs of wheat, rice, and other staples have put extreme pressure on aid providers such as the World Food Programme (WFP), a UN agency aiming to feed 73 million people this year.
UN Secretary-General Ban Ki-moon called on the international community to provide the WFP all of the $755 million in emergency funds it needs for the crisis.
"Without full funding of these emergency requirements, we risk again the specter of widespread hunger, malnutrition, and social unrest on an unprecedented scale," Ban said.
Concern about soaring food costs and limited supplies have toppled Haiti's government and caused riots in parts of Africa.
The task force, bringing together the heads of UN agencies, funds and programs, the IMF and the World Bank under the leadership of Ban, will set priorities for a plan of action and make sure it is carried out.