NEW DELHI -- Iran's President Mahmoud Ahmadinejad was to arrive in New Delhi Tuesday for a lightning visit due to be dominated by talks on gas supplies as energy-starved India searches for new fuel sources.
Ahmadinejad, who will be in Delhi for less than five hours, was to meet Prime Minister Manmohan Singh in the evening with two long-stalled multi-billion-dollar deals in the works, the foreign ministry said.
"Energy issues are on the agenda for talks," said a ministry official.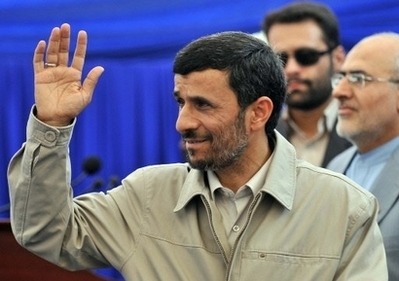 Iranian President Mahmoud Ahmadinejad, seen here in Colombo, was to arrive in New Delhi for a lightning visit due to be dominated by talks on gas supplies as energy-starved India searches for new fuel sources. [Agencies]
Hopes are high for progress on a 7.5-billion-dollar project to transport Iranian gas to Pakistan and India. The project was first mooted in 1994 but stalled by disputes over prices and transit fees.
However, Indian and Pakistani energy ministers meeting in Islamabad said last Friday they had made "significant progress" in discussions on transit fees and were hopeful work could start on the project next year.
Related readings:


 Iran tries to defuse nuclear tension


 Meeting on Iran nuke issue to be held in London


 Iran takes new shot at Barbie, calling US doll 'destructive'


 Ahmadinejad: Iran ready to discuss nuclear dispute
On Monday, Iran and Pakistan also said they had ironed out hurdles delaying the 2,600-kilometre (1,615-mile) project during a brief stopover by the Iranian president in Islamabad on the first leg of his whirlwind South Asia tour.
India in 2005 signed another deal with Iran, which has the world's second largest known gas reserves after Russia, for the supply of five million tonnes of gas per year for 25 years.
But that agreement, estimated at over 20 billion dollars, has also stalled over price disputes.
The Iranian embassy and the Indian foreign ministry plan to brief reporters on the outcome of the visit after Ahmadinejad departs New Delhi on a special flight.
India has been under pressure from the United States not to do business with Iran, viewed in Washington as a state sponsor of terrorism and seen as bent on acquiring nuclear weapons.
But energy-hungry India, which imports more than 70 percent of its energy needs, has been racing to secure new supplies of oil and gas from abroad besides ramping up domestic production to sustain its booming economic growth.
Last week India curtly told the US not to interfere in its dealings with Iran after a State Department spokesman said Washington would like New Delhi to put pressure on Ahmadinejad over his country's nuclear programme.
India's stand was met with approval by Tehran, earlier angered by India's votes against it at the International Atomic Energy Agency and its commercial launch of an Israeli spy satellite in January.
Ahmadinejad will arrive in New Delhi after a visit to India's southern neighbour Sri Lanka, which relies on Iranian crude for 70 percent of its oil supplies.
During his stay, Ahmadinejad's first to India, he will also meet his Indian counterpart Pratibha Patil.