ANDERSON/SOUTH BEND, Indiana -- Democrats Barack Obama and Hillary Clinton touted their economic agendas and sparred over fuel taxes on Saturday as they crisscrossed Indiana ahead of its must-win presidential nominating contest in May.
Clinton, a New York senator who trails Obama in votes and number of delegates who will determine the party's nominee to run in November's election, challenged the Illinois senator to a televised debate without moderators. His campaign declined.
Obama gave a populist message as he tried to reach the kind of working class voters who handed victory to Clinton in Tuesday's Pennsylvania primary election.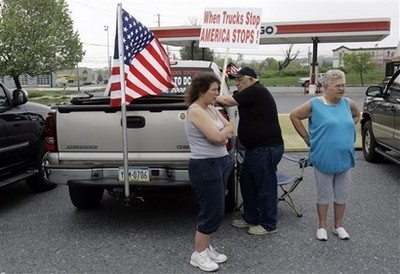 Retired trucker Robert Galloway, center and his daughter Holly Galloway and wife Helen Galloway, gather at Gables Truck Stop in Harrisburg, Pa., Saturday April 26, 2008, to rally against the high price of fuel. The group is preparing to travel to a rally in Washington, on Monday, April 28, 2008. [Agencies]
"If the economy's growing and your incomes are going down, what's happening? It means that somebody's making out like a bandit," Obama told about 2,000 people in the city of Marion, citing tax cuts under the Bush administration that benefited the wealthy and not the middle class.
Obama spoke out against halting a tax on gasoline during the summer months, a move supported by Clinton and presumptive Republican nominee John McCain, saying it may not bring down prices and would deplete a fund used for building highways.
"The only way we're going to lower gas prices over the long term is if we start using less oil," Obama said in Anderson.
Indiana holds its nominating contest on May 6 and polls show the race to be tight. Like other Americans, the state's residents are concerned about high fuel prices, a mortgage crisis, job losses and a sputtering economy.
Clinton launched an ad calling for a suspension of the gasoline tax.
"Hillary Clinton knows it's time to act, take some of the windfall profits of big oil to pay to suspend the gas tax this summer, investigate the oil giants for price gouging and collusion," the ad said.
McCain, taking the day off from the campaign trail, said through a spokesman that Obama had retreated from earlier support for action on gasoline prices.
"Gas prices are at the all-time high, and instead of taking a strong stance for hard-working Americans, Barack Obama has backed away from his support for gas tax relief," Tucker Bounds said in a statement.
"Americans need strong leadership that can deliver lower gas prices and a healthier economy, not Barack Obama's inexperience and indecision."
DEBATE OVER A DEBATE
Clinton, a former first lady seeking to convince "superdelegates" -- Democratic Party leaders and elected officials -- to give the support she needs to overcome Obama's lead, pushed for another one-on-one, televised debate.
"Here's my proposal: I'm offering Senator Obama a chance to debate me one on one, no moderators," she said in South Bend.
"I think that would be good for our Democratic Party, it would be good for our democracy and it would be great for Indiana."
Their last debate in Philadelphia focused on Obama's controversial Chicago pastor and his recent relationship with a 1960s radical. Some Obama supporters criticized the moderators from television network ABC for not giving more weight to issues such as health care and the war in Iraq.
An Obama spokesman said the senator had participated in 21 debates already, including four with Clinton alone.
"Over the next 10 days, we believe it's important to talk directly to the voters of Indiana and North Carolina," Robert Gibbs said in a statement.
Clinton has seen some of her support from superdelegates and fund-raisers erode over accusations she has used negative campaign tactics, but her advisers say Obama's team has been just as negative.
Obama disputed concerns by some that he has not been aggressive enough in responding to Clinton's attacks.
"If you're really tough, sometimes you just walk away," he said.