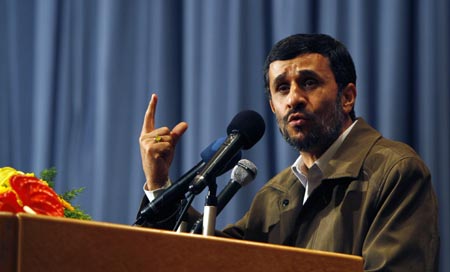 Iran's President Mahmoud Ahmadinejad speaks during an event to mark Iran's National Day of Nuclear Technology in Tehran April 8, 2008. [Xinhua]
TEHRAN -- Iranian President Mahmoud Ahmadinejad and his Venezuelan counterpart Hugo Chavez on Sunday emphasized the need to strengthen relations between the two countries, Iran's Mehr news agency reported.
In a telephone conversation on Sunday, Ahmadinejad expressed hope that all the signed agreements between the two countries would be implemented soon, Mehr said.
Iranian Mines and Industries Minister Ali-Akbar Mehrabian was in Caracas last week to attend the Fifth Iran-Venezuela Joint Commission on Economic Cooperation and signed six cooperation deals in industry, energy, agriculture, housing, infrastructure and physical education with the Venezuelan side.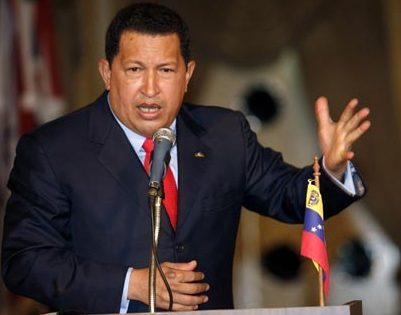 Venezuela's President Hugo Chavez speaks during a joint news conference with Brazil's President Luiz Inacio Lula da Silva in Recife, capital of the northeastern state of Pernambuco, March 27, 2008. [Xinhua]
Ahmadinejad also stressed that Venezuela "is the standard-bearer of the fight against imperialism in South America," the report said.
For his part, Chavez expressed satisfaction over growing ties between the two countries, adding the Islamic Republic has always supported Venezuela in confronting the international imperialism, according to the report.