RENO, Nev. -- Scientists urged residents of northern Nevada's largest city to prepare for a bigger event as the area continued rumbling Saturday after the largest earthquake in a two-month-long series of temblors.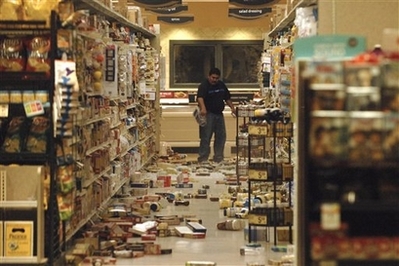 A man who said his name was Juan cleans up the groceries that toppled from the shelves at Save Mart in Northwest Reno after Friday night's strong earthquake April 25, 2008. The quake had a preliminary reading of 4.7 and is the latest of 100's of earthquakes that have swarmed the northwest Reno area in the past six weeks with the quakes getting progressively stronger. [Agencies]
More than 100 aftershocks were recorded on the western edge of the city after a magnitude 4.7 quake hit Friday night, the strongest quake around Reno since one measuring 5.2 in 1953, said researchers at the seismological laboratory at the University of Nevada, Reno.
The latest quake swept store shelves clean, cracked walls in homes and dislodged rocks on hillsides, but there were no reports of injuries or widespread major damage.
Seismologists said the recent activity is unusual because the quakes started out small and continue to build in strength. The normal pattern is for a main quake followed by smaller aftershocks.
"A magnitude 6 quake wouldn't be a scientific surprise," John Anderson, director of the seismological lab, said Saturday. "We certainly hope residents are taking the threat seriously after last night."
But Anderson stressed there was no way to predict what would happen, and said the sequence of quakes also could end without a major one.
Reno's last major quake measured 6.1 on April 24, 1914, and was felt as far away as Berkeley, Calif., said Craig dePolo, research geologist with the Nevada Bureau of Mines and Geology.
A rockslide triggered by Friday night's quake was blamed for causing a 125-foot breach in a wooden flume that carries water to one of two water treatment plants in Reno, a city of about 210,000.
A backup pump was used to divert water to the plant, and the breach was not expected to cause any water shortages, said Aaron Kenneston, Washoe County emergency management officer.