LONDON -- BP PLC and Royal Dutch Shell PLC, Europe's two biggest oil producers, posted forecast-busting first-quarter earnings on Tuesday thanks to record crude oil prices that are expected to bolster profits across the industry.
The combined profits of $17 billion reignited calls for a windfall tax on oil profits as consumers struggle to pay for food and fuel.
British Prime Minister Gordon Brown suggested that some of those profits should be reinvested in costly exploration for new oil reserves in the North Sea.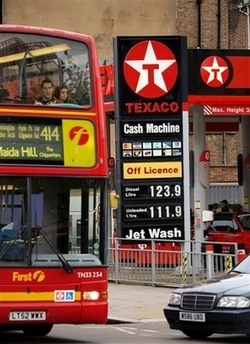 A London bus, left, goes past a Texaco petrol station, with the prices of different fuels on show, in London, Tuesday April 29 2008. BP PLC and Royal Dutch Shell PLC, Europe's two biggest oil producers, posted forecast-busting first quarter earnings on Tuesday thanks to record crude oil prices that are expected to bolster profits across the industry. [Agencies]
BP posted a 63 percent surge in first-quarter net profit to $7.6 billion (4.9 billion euros), while Shell reported a 25 percent rise, to a record $9.08 billion (5.81 billion euros).
Revenue at BP jumped 44 percent to $89.2 billion (57.1 billion euros), while sales at Shell soared 55 percent to $114 billion (72.95 billion euros).
Last week ConocoPhillips reported a 16 percent rise in net income to $4.14 billion. Like BP and Shell, the third biggest US producer far outpaced industry expectations. More big profits are expected from the biggest two US companies, Exxon Mobil Corp. and Chevron Corp., when they report first-quarter earnings later this week.
Crude oil hit $111.80 per barrel during the quarter, while gas jumped an average of 22 percent. Crude has pushed even higher since, reaching a record $119.93 per-barrel this week.
BP shares jumped 6 percent to 613 pence ($12.18), while Shell rose 4.5 percent to 25.83 euros ($40.39).
The enormous profit reports from European companies coincided with the end of a two-day refinery strike in Britain that shut off 700,000 barrels of oil per day, brought from the North Sea to a BP plant.
Truck drivers staged a protest in London's Park Lane on Tuesday, blaring their horns to protest a 30 percent rise in the price of diesel over the past year. A similar protest took place in Washington, D.C. on Monday, and it wasn't the first.
"The price of fuel is becoming something many families are struggling with," said Sheila Ranger, a spokeswoman for the RAC Foundation, a commuter advocacy group. "This will be the last straw for some motorists."
Shell's Chief Financial Officer Peter Voser said oil companies are not to blame.
"We don't understand the oil price at this stage," he said. "The fundamentals will not justify an oil price as we see it at the moment."
Shell's earnings from oil production rose 52 percent to $5.14 billion (3.3 billion euros), due almost entirely to the price increases. The company said combined production of gas and oil equivalents increased by less than 1 percent to 3.4 million barrels per day, as a 9 percent rise in gas production outweighed a 6 percent fall in oil production.
Stripping out the impact of oil inventories that have risen in value, refining profits would have fallen 20 percent, Shell said.
"It seems that better marketing and trading were able to offset the weak refining environment," analyst Alexandre Weinberg of Petercam.
Shell has invested heavily to improve production after a string of setbacks, including an accounting scandal in 2004. More recently, it has faced attacks on its pipelines in Nigeria and a forced sale of part of its stake in a major project on Russia's Sakhalin Island to a state-run enterprise.
BP's profit follows an even rougher period for the company from production outages, US environmental fines and fraud and the scandal-tinged departure of its chief executive.
Chief Executive Tony Hayward, who took over from John Browne a year ago, has focused on bringing new production and refining capacity on line to improve earnings.
"At last, it appears that BP is beginning to improve its operational performance and this looks set to drive a stronger financial performance in the second half," said Tony Shephard, analyst at Charles Stanley & Co.
BP's closely watched replacement cost profit rose 48 percent to $6.59 billion (4.34 billion euros), compared with $4.44 billion in the first quarter of 2007. The replacement cost figure is viewed by many analysts as the best measure of an oil company's underlying performance because it excludes changes in the value of crude inventories, measuring the amount it would cost to replace assets at current prices.
The company said refining availability improved for the sixth successive quarter.
"BP is still not firing on all cylinders but its operational turnaround looks to be on track with a strong second half recovery in prospect," said Charles Stanley & Co. analyst Tony Shephard.