BAGHDAD -- Dozens of fighters ambushed a US patrol in Baghdad's main Shiite militia stronghold Tuesday, firing rocket-propelled grenades and machine gun bursts as the American push into Sadr City increasingly faces pockets of close urban combat.
US forces struck back with 200-pound guided rockets that devastated at least three buildings in the densely packed district that serves as the Baghdad base for the powerful Mahdi Army militia.
The US military said 28 militiamen were killed as the US patrol pulled back. Local hospital officials said dozens of civilians were killed or wounded.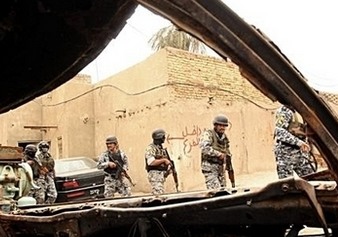 Basra patrol : Iraqi police commandos patrol past a wrecked car in the southern city of Basra. [Agencies]
Such street battles -- in tight confines and amid frightened civilians -- are increasingly becoming a hallmark of the drive into Sadr City and recall the type of head-on clashes last seen in large numbers during last year's US troop buildup in Baghdad and surrounding areas.
Related readings:


 Many US-funded contracts in Iraq terminated


 Al-Sadr may restart full-scale fight against US in Iraq


 Suicide bomber kills 49 at Iraq funeral


 Anti-US cleric warns of new uprising in Iraq
US troops often have fought intense gunbattles as they cleared neighborhoods in Baghdad and former Sunni insurgent havens such as Anbar and Diyala provinces. But roadside bombings and rocket or mortar volleys against bases have been the more frequent mode of attack in recent years.
Meanwhile, two US soldiers were killed in northwestern Baghdad on Tuesday, the military said. One soldier died when his vehicle was struck by an improvised explosive device. The other died of wounds sustained when he was attacked by small-arms fire, the military said in a statement. No other details were immediately available.
Clashes have intensified in Sadr City since the Mahdi Army leader -- the anti-American cleric Muqtada al-Sadr -- reiterated his threat of an all-out war against US-led forces last week. US troops, meanwhile, find themselves increasingly drawn into the fight opened by the Iraqi government to cripple the power of Shiite militias.
"We are seeing larger groups of militants actually aggressively attacking Iraqi and US security forces," said Lt. Col. Steve Stover, a military spokesman for American troops in Baghdad. "We've seen more of the brazen attacks in the daytime recently."
The ambush Tuesday came as a US patrol of heavily armored Stryker vehicles and tanks moved along a road where the US military is putting up a concrete barrier -- which seeks to cut off the militants' movements and hamper their ability to fire rockets and mortars at the US-protected Green Zone.