ZURICH, Switzerland -- UBS AG's chairman abruptly resigned Tuesday as the Swiss bank reported a first-quarter loss of $12.1 billion and said it would seek $15.1 billion in new capital.
UBS revealed more serious damage from exposure to the US subprime crisis and said it expects write-downs of approximately $19 billion.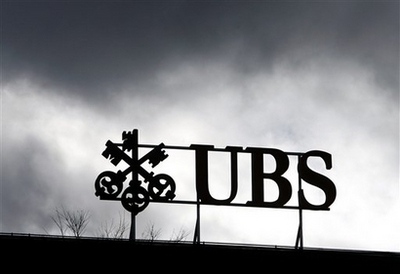 Dark clouds over a logo of the Swiss Bank UBS in Zurich, Switzerland, in a March 12, 2008 file photo. Swiss bank UBS AG said Tuesday, April 1, 2008 it expected to post first quarter net losses of 12 billion Swiss francs (US$12.1 billion; euro 7.65 billion) and would seek 15 billion Swiss francs (US$15.1 billion; euro 9.55 billion) in new capital. [Agencies]
As UBS Chairman Marcel Ospel stepped down, Deutsche Bank AG, Germany's largest bank, announced similar write-downs of about $4 billion.
It was the latest indication of how far the severe plunge in US housing prices and a credit crisis triggered by rising mortgage defaults has reached.
UBS write-downs for the past nine months have reached $37.4 billion, the largest reported by any bank to date.
Standard & Poor's cut the bank's credit rating one notch to AA-, citing "risk management lapses, earnings volatility and need for new capital."
UBS said that after it raises new capital, its Tier 1 capital ratio, a key indicator of a bank's ability to absorb losses, would be about 10.6 percent. That is well above minimum European requirements of 4 percent and bank shares rose 8.66 percent to 31.36 francs ($31.53).
Ospel said he was ultimately responsible for the bank's health as he stepped down.
"My willingness to stand for re-election for a further one-year term was based on my desire to lead UBS out of its current difficult situation," Ospel said. "We have worked very hard and have been able to address the firm's most pressing problems, thereby laying the foundation for the long-term success of the bank."
The bank said its move to raise capital through a rights issue that would be fully underwritten by four leading international banks and would enable it to remain "one of the world's strongest and best capitalized banks."
"In the first quarter, UBS substantially reduced its real estate related positions through both valuation adjustments and significant disposals," the bank said.
It said it would create a new unit to "hold certain currently illiquid US real estate assets."
"UBS is confident that these measures will deal effectively with the firm's real estate exposures and allow the bank to focus on strengthening its core operations," the statement said.
Chief Executive Marcel Rohner said, "We believe this capital increase and the creation of a vehicle to separate problem assets from the remainder of our businesses will allow us to return to sustainable value creation over time."
He said profits from most of the bank's businesses "remained acceptable in challenging conditions" during the first quarter.
"We have made further prompt writedowns and sales of our impaired US real estate-related positions," Rohner said. "We have reduced risk weighted assets and implemented measures to control costs and strengthen the structure of the firm."
However, he said, UBS wants to avoid selling at "severely distressed levels."
"With these measures we have created the basis to weather one of the most difficult periods in the history of the industry," Rohner said.
The measures show the bank continues to trim risky assets. The bank said its exposure to US subprime mortgage related positions declined to approximately $15 billion from $27.6 billion on Dec. 31.
The exposure to Alt-A positions -- which are less risky than subprime loans -- was reduced to $16 billion (10.1 billion euros) from $26.6 billion, it said.
The efforts at minimizing exposure will be accompanied by an undisclosed number of job cuts and a further tightening of risk.
The measures mean that UBS is now a restructuring stock, analysts at JP Morgan wrote in a note to investors.
"We conclude UBS is aiming to put a line below its risk-exposure problem and refocus on operational business," JP Morgan's Kian Abouhossein said.
But Octavio Marenzi, head of financial consultancy Celent, said the UBS disclosures were "a clear indication that we are not out of the woods yet in terms of the credit crisis."
"Indeed, the storm clouds are gathering ever more rapidly over the banking industry and, in particular, the US banking industry, where most of UBS's losses originated from," Marenzi said.
He predicted the US banking industry is set to see its first contraction in overall revenues in more than forty years. "This will inevitably lead to staff reductions, and we expect to see the US banking industry shed about 200,000 jobs in the coming 12 to 18 months," Marenzi said.
Earlier this year UBS posted a 12.45-billion franc loss for the fourth quarter of 2007, after writing down 15.6 billion francs tied to US subprime mortgages, and said it expected another difficult year ahead.
The bank posted a net loss of 4.38 billion francs for 2007, its first annual loss.