The country's top 100 philanthropists have given away 12.9 billion ($1.8 billion) since 2003, with education, social welfare and poverty reduction attracting the most donors, the Hurun Philanthropy List released Wednesday in Shanghai.
Twenty-seven donors each gave more than 100 million yuan this year, compared with 15 donors last year, stated the list, a ranking of the country's most generous individuals and into its fifth year.
Topping the list for the third year running is 86-year-old Yu Pengnian, a Shenzhen hotel and real estate entrepreneur, who has endowed his foundation with 3 billion yuan in the past five years to provide cataract operations.
Zhu Mengyi, also known as Chu Mang Yee, chairman of property developer Hopson Development Holdings Ltd, ranked second with a stock donation worth 1.1 billion yuan. Huang Rulun, chairman of the Jinyuan Hotel Group, came in third by giving away 850 million yuan since 2003.
Last year, the country's top 100 philanthropists had given 9.5 billion yuan in donations tracked since 2003, when Shanghai-based Hurun Report began compiling the list.
The report, which also compiles an annual list of the country's wealthiest people, found that 66 of the top 100 philanthropists also ranked in China's 100 wealthiest this year, up from 54 last year.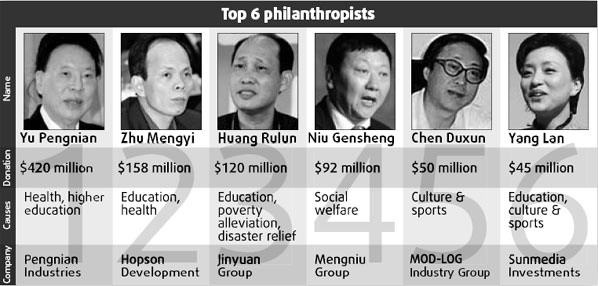 Yang Guoqiang, Xu Rongmao, Rong Zhijian and Xu Jiayin, who are among the top 10 richest people, also found themselves on the top 100 philanthropists list.
Hotelier Yu is the oldest donor on the list, while Ding Lei, chairman of Internet and online game company NetEase, and Xu Ming, chairman of chemical giant Shide Group, both aged 37, are the youngest philanthropists.
The average age of the philanthropists on the list is 52 this year. Five years ago, their average age was 48 years old.
Briton Rupert Hoogewerf, the founder and compiler of the Hurun Report, established the China Rich List with two students from Shanghai's Donghua University in 1999, publishing the first China Rich List in Forbes magazine.
"With a good policy environment including preferential policies in taxation and legislation, China saw further development in the charity cause last year," Hoogewerf said while releasing the report.
"More and more wealthy people are setting up their own charitable funds, and the whole of society have paid more attention to charity," said Hoogewerf, who is also a qualified chartered accountant. His list draws on a survey covering 2,500 entrepreneurs in the Chinese mainland. It also refers to news reports and data from various foundations.
The charity lists have created a favorable social environment for the development of the country's philanthropy sector, said Zheng Yuanchang, director with the social relief office of the Ministry of Social Affairs.
"The government also has a role in creating a social and taxation environment that promotes philanthropy," Zheng said.
The Ministry of Civil Affairs also plans to cooperate with several government departments to set up a national social donation information center, aimed at guaranteeing transparency in donations and their allocation, officials have said.
"Establishing such a system will not only encourage more people to be involved in social charity, but also enhance the reputation of China's philanthropy organizations," Zheng said.
Fairer regulations and faster administrative procedures must be ensured so that the rich do not face obstacles when giving away their money, he said.
Similarly, experts have asked for a better social and legal environment to promote giving by the wealthy, amid criticism that it often takes several months to seek a personal income tax deduction for donations.
Three-quarters of the money donated by the country's top 100 philanthropists were also channeled into foundations set up or monitored by the donors themselves, and experts have attributed the weak development of the sector to the lack of public confidence in various charity foundations.
Forbes last year also announced that it would cancel its China philanthropy list, "mainly due to the immaturity of the charity sector" and many rich people's "unwillingness to have their wealth disclosed and their names published".
Still, hotel entrepreneur Yu was one of the donors listed by Hurun that ran contrary to this view.
Yu, founder of Hong Kong Yu's Charitable Foundation and the Shenzhen Yu Pengnian Social Welfare Association, launched the nationwide Pengnian Brightness Action campaign in 2004, to provide free operations for up to 150,000 cataract sufferers in poor areas over a five-year period.
The campaign has reportedly provided free cataract surgery to more than 100,000 people so far.
Yu also recently directed his property projects in Shenzhen and Hong Kong towards his charities' causes.