Any attempt to combine politics and religion at an institutional level in Tibet would be against the will of its people, a Tibetologist said Wednesday.
Many countries abandoned theocratic governance, and the local government of the Tibet autonomous region followed suit, Lian Xiangmin, a professor at the Beijing-based China Tibetology Research Center, said at a press briefing of the State Council Information Office.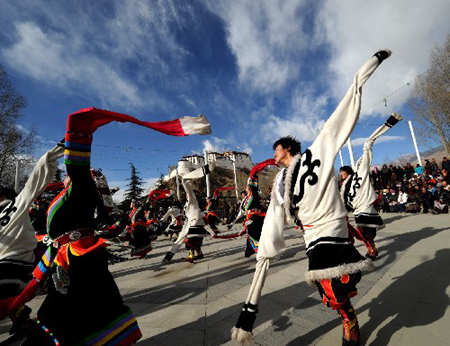 Tibetans celebrate the traditional Earth Rat Losar in Lhasa, February 7, 2008.
"In my view, it is a sign of historic progress," Lian said.
"Under such a religious administrative system, the mindset of Tibetans would be restricted, and there would be no economic or social development."
Tibet was ruled by a theocracy before 1959, when the Dalai Lama fled the country following a failed rebellion to separate the region from the motherland.
"But the Dalai Lama has not renounced politics since 1959, and I just can't help feeling curious why a religious figure would be so fascinated by politics," Lian said.
"History will never repeat itself in Tibet in the form of religion and politics recombining, and anyone who attempts to resume this institution will meet strong resistance from Tibetans."
When Tibet was peacefully liberated in 1951, the "17-Article Agreement" jointly signed by the central government and Tibetan government stipulated that "the local government of Tibet shall carry out reform voluntarily, and when the people demand reform, it shall be settled through consultation with the Tibetan leaders".
Tibet had been under a feudal system until democratic reform was introduced in 1959.
"I know that some people still worship the Dalai Lama, however, there is no reason for him to engage in activities designed to destroy stability and prosperity, or sabotage the unity of the country," Luosang, a Lhasa resident, said.
"The Dalai Lama has done nothing good for us. He never cared for our development," he said.
Luosang was born a slave in 1939 and started working for a farm owner when he was 8 years old.
Today, he is the head of a residential community of 2,700 people near the Jokang Temple in the capital of the Tibet autonomous region and also owns and operates a chain of teahouses.