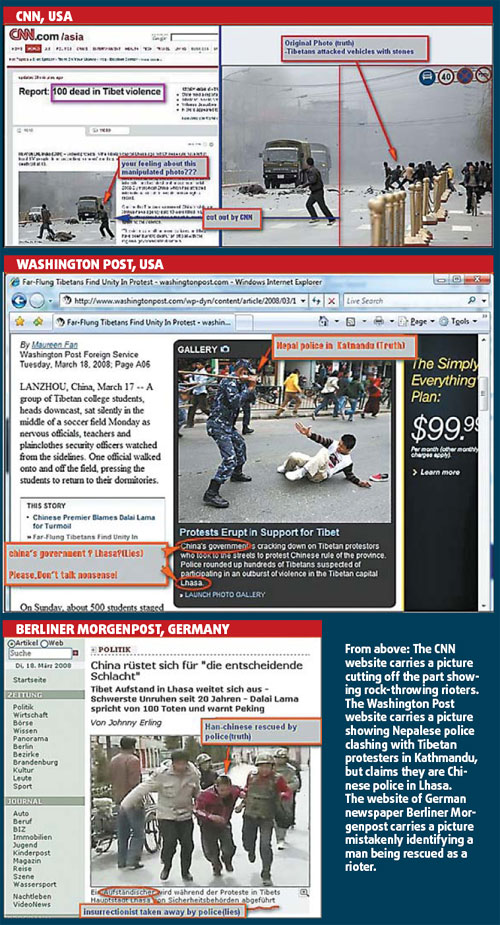 Some foreign media fabricated lots of reports on severe riots that took place in early March in Southwest China's Tibet Autonomous Region. The distorted reports triggered protests of netizens both at home and abroad. Netizens even established a website named anti-cnn.com that is aimed at opposing distorted reports from CNN, a well-known US news network.
Responding to a question from a Western media outlet at a regular press conference by Chinese Foreign Ministry on whether the anti-CNN website is supported by the Chinese government, spokesman Qin Gang said the website represented unprompted efforts by Chinese people from all walks of life to condemn and criticize Western media for their irresponsible and unethical reports and it had nothing to do with the government.
Western media led by CNN have been advocating the principles of objective and impartial reporting. However, they distorted reports on riots in Tibet that involved beating, smashing, looting and burning.
Distorted Western reports spark protests from netizens
Eighteen innocent civilians were killed and direct property losses of more than 250 million yuan were incurred in the unrest that rocked Lhasa, capital of Tibet, on March 14. During the orgy of violence, mobsters attacked not only passersby but also government organs. Police and riot police, led by the Tibet regional committee of the Communist Party of China and the government, cracked down on the rioters strictly according to the law and maintained law and order in the region.
However, some major Western media completely ran against the basic principles of objectivity and impartiality in their reports about the riots in Tibet.
The CNN website publicized a picture showing people running in front of two military trucks on March 17. The original picture uploaded by netizens, however, actually also shows about 10 mobsters throwing stones at the trucks. Obviously, the website intentionally clipped parts of the picture that show the real image of the picture.
Just in the same day, a picture on the BBC website showing Chinese riot police officers helping medical staff move a wounded person into an ambulance was captioned "there is a heavy military presence in Lhasa". The Chinese characters "Jijiu" (First Aid) on the ambulance were so conspicuous and even for those who don't know Chinese characters well, the Red Cross signs on the ambulance were also obvious to see. Evidently, the references of First Aid and Red Cross signs on the ambulance were dutifully neglected.
Berliner Morningpost published a picture on its website on March 18 with a caption "Police are arresting Tibetans." However, the real image is that police are rescuing injured people.
More notably, the websites of Germany's Bild newspaper, N-TV and RTL TV, and the Washington Post all used pictures of baton-wielding Nepalese police in clashes with Tibetan protesters in Kathmandu, claiming that the officers were Chinese police. However, the fact is that Nepalese security forces were confronting demonstrators with batons.
All the above-mentioned Western media completely turned blind eyes to the principles of fairness and objectivity, which they have been preaching, in the reports about riots in Tibet. Their distorted reports are far from mistakes they claimed.
Chinese netizens angered by biased and sometimes dishonest reports about the recent riots in Tibet by some Western media established the anti-cnn website in order to collect and make public the biased reports and shed light on the truth that the Western media are aimed at tarnishing the image of China.
The RTL TV admitted on March 23 that their report on Tibet was inaccurate and said sorry for that. Few media other than RTL have made sincere apology for their distorted reports.
Power of public opinion on the Internet
In the face of biased Western reports, netizens act rationally even though they are angered by the reports. They collected facts, through means including blogs and video images, that prove the Western reports are wrong and distorted.
An article on the Internet with 11 pictures strongly criticized the distorted reports and then many media carried the article together with the pictures.
A video footage named "Tibet is part of China both in the past, at present and in the future" on the famous video website Youtube received 1.2 million hits and 72,000 pieces of comments in different languages in three days after it was published. It also sparked widespread debate in many countries about the Tibet issue.
Another video image called "Tibet riots: the true face of Western media" also received record hits.
In the same time, netizens on domestic websites also strongly chided the distorted reports. Traffic of the anti-cnn website exceeded 200,000 five days after it was set up, with more than 2,000 netizens providing various proof. CNN's news reporting has become the synonym of disinformation and garbling that run counter to the true values of news reporting. "You cannot behave like CNN" soon became a catchword in the Internet.
Apart from the anti-cnn website, netizens also applied to establish anti-BBC and anti–VOA websites. Many netizens think CNN is only part of the Western media that have deep-rooted misunderstanding of and prejudice against China and it is necessary for them (netizens) to make truths known.
As a media commentary goes, "Chinese netizens' rational opinion and love of their country are becoming 'weapon of criticism' that foreign media have to face up to."