President Hu Jintao said Wednesday that China values the Sino-US Strategic Economic Dialogue (SED) mechanism for its role in promoting economic and trade collaboration and bilateral relations.
As key economic players, China and the US have the responsibility to promote the stable and healthy development of the global economy, Hu told US Treasury Secretary Henry Paulson Wednesday afternoon at the Great Hall of the People.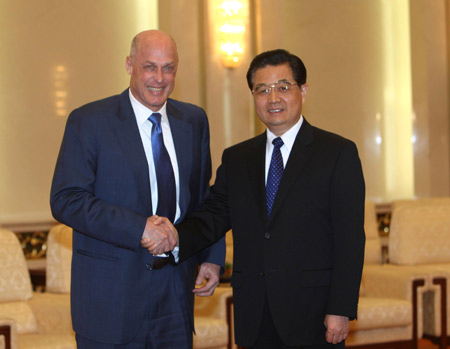 Chinese President Hu Jintao (R) shakes hands with Henry M. Paulson, special representative of US President George W. Bush and the US Treasury Secretary, at the Great Hall of the People in Beijing, April 2, 2008. [Xinhua]
Paulson, who arrived in Beijing Wednesday morning, is on a two-day visit to prepare for the next meeting of the SED scheduled for June in Washington.
The process was launched in 2006 to address trade frictions; and the biannual dialogue also serves as a platform to address long-term issues of mutual concern ranging from energy efficiency and copyright protection to the environment.
"The three SED sessions held so far have yielded positive results," Hu said. "They have played an important role in pushing forward Sino-US trade cooperation and bilateral relations."
Paulson reaffirmed the US commitment to promoting bilateral relations, adding that the sound development of the US and Chinese economies and Sino-US relations are important to both sides.
Earlier, Paulson met Vice-Premier Wang Qishan, his fellow co-chair of the SED.
This is the first time Wang has met Paulson after taking office as one of China's four vice-premiers in March. He has replaced retired vice-premier Wu Yi and taken charge of financial affairs, including the SED.
Paulson said he looked forward to working with Wang, whom he called a friend. The former Goldman Sachs banker has known Wang since the 1990s, when the latter was head of China Construction Bank.
Wang expressed sympathy for the thorny task Paulson has in handling the US credit crisis. "You looked very tired and worn out on TV. As an old friend, I was concerned," Wang said. "But now I see you here this morning, and you are glowing and robust."
Paulson briefed Wang on the current situation of the US economy; and noted that Washington opposes trade protectionism.
Paulson is today scheduled to meet Premier Wen Jiabao as well as deliver a speech on energy and the environment at the Chinese Academy of Sciences.