NEPTUN - President Bush urged NATO allies on Wednesday to recognize the seriousness of the anti-Taliban mission in Afghanistan and step up with more troops for the fight.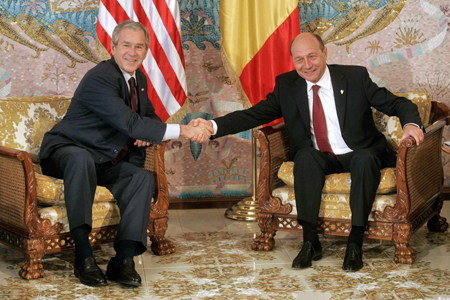 US President George W. Bush (L) shakes hands with his Romanian counterpart Traian Basescu during their meeting in Neptun, on the Black Sea coast, April 2, 2008. [Agencies]
"We expect our NATO allies to shoulder the burden necessary to succeed," Bush said, appearing alongside Romanian President Traian Basescu at a news conference on a wind-whipped Black Sea beach at the presidential retreat.
Related readings:


 France won't back Ukraine's NATO bid


 Bush supports Ukraine to join NATO


 Bush begins his farewell tour with his last NATO summit


 Medvedev warns against NATO membership for Ukraine, Georgia
Bush welcomed recent announcements by a few countries, including France, to provide additional troops to the 47,000-strong NATO force in Afghanistan. He also stepped gingerly around a two-year dispute between member nations, including Britain, Canada and the US, that have combat troops in Afghanistan's most dangerous areas and those such as Germany, Italy and Spain that are limiting their forces to the more stable north and west.
Bush showed some understanding of their reluctance to participate on the front lines and in large numbers. Still, he said the outcome in Afghanistan is too important to turn away from. Failure there, he said, could produce a safe haven again for terrorists and destroy an aspiring democracy.
"Nations need to take this mission seriously," the president said. 'It's worth it for our own security and it's worth it for the cause of peace."
He expressed cautious hope that this week's NATO summit in the Romanian capital of Bucharest will yield even more promises. "We'll see how it goes," Bush said. "That's what summits are for."
Basescu endorsed Bush's call.
"We have to do everything ... we can in order to make a success in our actions in Afghanistan, guaranteeing democratic development of the country, economic development of the country, security of the country, and eliminating the terrorist risks."