KIEV, Ukraine - Despite Russia's displeasure with NATO's growing ranks, President Bush is encouraging former Soviet republics like Ukraine to join up.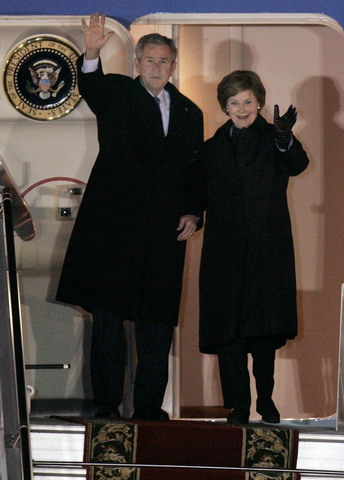 US President George W. Bush and first lady Laura Bush arrive at Borispol airport outside Kiev, March 31, 2008. He is to start his two-day state visit to Ukraine. [Agencies]
Photos
Ukraine put on a formal welcoming ceremony for Bush on Tuesday before his meetings with President Viktor Yushchenko at the Presidential Secretariat. The playing of national anthems and parade of high-stepping military men in long, belted dress coats with fur collars was typical of the greetings Bush gets all over the world. But these arrival rites took on particular importance here because of Ukraine's drive to join NATO.

Ukrainian officials are determined to showcase the sort of reforms needed to get there, during Bush's brief visit to Kiev and during the NATO summit later this week in Bucharest, Romania. Ukraine wants to be put on the path toward eventual membership and hopes NATO will provide a so-called membership action plan, which outlines what a country needs to do to join and is a precursor to a membership invitation. Georgia wants one, too.
Bush stopped in Ukraine as a show of support, intending to praise its democratic reforms and help make the case for NATO membership. Arriving late Monday night, Bush was presented with a traditional greeting of bread and salt, while his wife, Laura, was given a bouquet of flowers. He and Yushchenko scheduled a news conference Tuesday following their talks.
Ukraine had long flirted with joining NATO, but it started taking real steps toward meeting the alliance's military and political standards only after Yushchenko became president in the wake of the 2004 street protests, called the Orange Revolution.
Related readings:


 Medvedev warns against NATO membership for Ukraine, Georgia


 Putin, Bush to meet in April


 Moscow warns against Georgia's NATO entry
Since then, Ukraine has gained a vibrant opposition, a robust media and has held a series of clean elections. It has also set out to modernize its military, including creating an all-volunteer army and changing troop deployment and training to meet NATO standards. Kiev abandoned customs and practices, such as using soldiers for kitchen duty and outfitting them in cumbersome footwear. It also sought to prove itself by deploying troops to Iraq in 2003-2005 and sending peacekeepers to Kosovo and Lebanon.
Remaining problems, however, range from corruption to political turmoil, which has caused a stream of government shake-ups and early elections over the past years.
Another big obstacle in Ukraine's path to NATO membership is Russia. With nine former Soviet bloc countries already in NATO, Russia fiercely opposes the eastward expansion of an alliance it denounces as a Cold War relic.
As a result, Germany and France have spoken out against putting Ukraine on the list just yet. They fear upsetting already strained ties with Russia, which is a major supplier of energy to Europe.
But for all Moscow's irritation over NATO expansion, it is small compared with how Russia feels about Bush's proposal for placing missile defenses in Europe.
Bush's national security adviser, Stephen Hadley, said no deal over the bitter missile defense dispute was in hand yet, though he thought Bush and Russian President Vladimir Putin could reach one when they meet Sunday in the Black Sea resort of Sochi. That is to be the last stop on Bush's weeklong trip to the region, which is to be anchored by his attendance at the NATO summit.
"I think we're moving in a direction where ... Russia and the United States could have missile defense as an area of strategic cooperation," Hadley told reporters as the president flew to Ukraine.
For months, Putin has stepped up his anti-American rhetoric, demanding that the US abandon the plan to base missiles in Poland and the Czech Republic, two former Soviet satellites. He has complained it would upset the balance of power and was aimed at weakening Russia, charges the United States has denied repeatedly.
In recent days, there have been signs of progress toward resolving the dispute. Bush sent Defense Secretary Robert Gates and Secretary of State Condoleezza Rice to Moscow with concessions to ease Russia's concerns. Bush also sent a personal letter to Putin, and a Russian delegation spent several days in Washington last week working on the problem.