WASHINGTON - Australian Prime Minister Kevin Rudd called Monday for careful management of US-China relations, saying it was critical for the success of the "Pacific Century."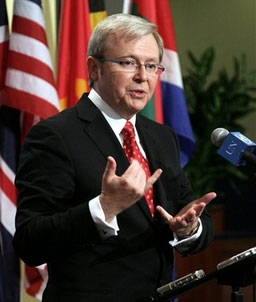 Kevin Rudd, Prime Minister of Australia speaks to reporters following his meeting with Secretary General Ban Ki-moon at UN Headquarters, March 29, 2008. [Agencies]
"For Australia, the single core question of whether ours will be a Pacific century rests on the long term management of this most critical relationship," he told a forum of the Washington-based Brookings Institution.
The term Pacific Century had been used previously to describe the 21st century that some believed will be dominated, especially economically, by the Pacific Rim states, particularly China, Japan and the United States.
More recently, the term Asia Century was coined to place greater emphasis on Asian nations, including India.
Rudd, who arrived last Thursday in Washington on his first major overseas trip since becoming prime minister, said there should be "continued good management" of relations between Washington and Beijing.
"There is nothing pre-determined about US-China conflict in the future," said Rudd, who has pushed for closer Australian ties with China. "We decide the future by our actions today."
A China expert and avowed Sinophile, Rudd sought "common ground" between China and the international community in a bid to make the Asian giant a "responsible stakeholder" contributing to a "harmonious" global and regional order.
Rudd, whose trip abroad will include a visit to China, said that plans to expand the Beijing-chaired six-nation talks aimed at ending North Korea's nuclear weapons drive into a broader security mechanism should help ease tensions in the "strategically fragile" region.
The security forum of the Association of Southeast Asian Nations (ASEAN) could also be used for greater regional cooperation on humanitarian responses to natural disasters and energy security that could include China, he said.
The ASEAN Regional Forum would "provide a further institutional mechanism for engaging China constructively and non-confrontationally in some of the broader security challenges in the region," he said.
China should also be encouraged to play a more active role in bringing the Doha Round of World Trade Organization (WTO) talks to a successful conclusion, and "more high profile role" in climate change negotiations, he said.