WASHINGTON - The economy is listing. So it must be time to bail. While there is little enthusiasm for government bailouts in general, voters are increasingly demanding immediate government relief as the economy ebbs.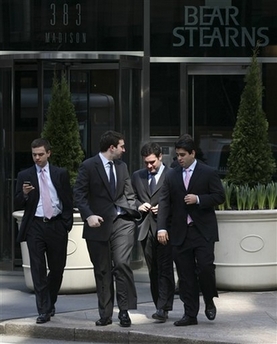 People leave Bear Stearns on Monday, March 24, 2008 in New York. Wall Street extended its big advance Monday as investors applauded a new agreement that will give Bear Stearns Cos. shareholders five times the payout than was outlined in a JPMorgan Chase & Co. buyout deal a week ago. [Agencies] 
The Fed-engineered bailout of investment banker Bear Stearns and other assistance to financial institutions has further raised expectations. To some, the $30 billion JP Morgan-Bear Stearns deal also raised a fairness issue: Should the government bail out a prestigious investment bank while doing little to address the hardships of Americans facing foreclosures on their homes, or caught in other troubled segments of the economy, such as laid-off factory workers?
Members of Congress, particularly Democrats, will press the issue when they return from their spring break next week. Bailout proposals for homeowners abound, including several measures to get lenders to rework home loans. There are also bills to increase federal regulation over the nation's financial system.
"The big thing about the Bear Stearns bailout - if you want to call it that - is that it kind of opens the doors for other types of bailouts like for homeowners and individuals," said federal budget expert Stanley Collender.
"If the Fed is thinking about the business community, the lending community and the credit markets, then members of Congress are tending to think about individuals," said Collender, with Qorvis Communications, a Washington consulting firm.
All three major presidential candidates gave what their campaigns billed as major speeches on the economy this week.
Democratic Sens. Hillary Rodham Clinton and Barack Obama both called for direct federal intervention to help burdened homeowners. Sen. John McCain, the certain GOP presidential nominee, has called for caution.
Clinton wants a $30 billion fund for states and communities to assist those at risk of foreclosure. Obama is pushing a $10 billion relief package and a simplification of the tax code to allow more families to claim a mortgage income tax deduction.
McCain said that, while he would evaluate various rescue proposals put forth, it is "not the duty of government to bail out and reward those who act irresponsibly, whether they are big banks or small borrowers." He previously proposed cutting the corporate tax rate to 25 percent from 35 percent and making permanent the Bush administration's first-term tax cuts, cuts he initially opposed.
Budget hawks can only cringe at the raft of possible bailouts and expensive new federal programs that may be coming down the pike.