NEW YORK -- President George W. Bush preached optimism and Republican orthodoxy of minimalist government intervention Friday as the best approach to an increasingly troubled US economy.
The president chose the country's financial heart as the backdrop - and titans of business as the audience - for his most high-profile attempt to date to calm nerves from Wall Street to Main Street.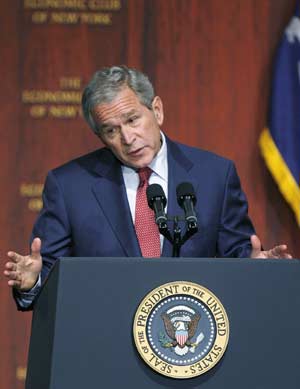 US President George W. Bush addresses the Economic Club of New York March 14, 2008. Bush, on a drive to bolster faith in the U.S. economy amid fears of a recession, said the economy was resilient and would regain its strength despite the hard times. [Agencies] 
His main message, aside from displaying confidence in the US economy's underpinnings and historical resilience, was to caution against overreaction by policymakers that could damage the economy's short- and long-term prospects, something he did about a half-dozen times in 40 minutes of remarks.
"Our economy obviously is going through a tough time," Bush told a gathering of The Economic Club of New York. "The challenge is not to do anything foolish."
The Bush administration has been trying to find a balance between acknowledging leaner times and forecasting that better ones will come soon. White House officials predict that things will turn around by summer as the effects are realized from a series of aggressive interest rate cuts by the Federal Reserve and an economic stimulus package that will send tax rebate checks to 130 million households starting in May.
But those actions face off against a series of blows; the dollar has dropped to new lows, while oil and gold are hitting new highs. The economy is now shedding jobs, rather than adding them. Retail sales have dropped.
Some economists believe the economy may already be in recession -- a milestone that generally requires at least two consecutive quarters of negative growth.
At the root of the troubles is a two-year slump in the housing sector that has seen sales and prices plunge and created a severe credit squeeze that is rippling through the economy. In the race to elect Bush's White House successor this year, economic worries have now replaced the Iraq war as the No. 1 concern of voters.
Presidents can do little to alter the economy's course. Perhaps the most effective tool of the Oval Office is the bully pulpit, from which presidents try to keep up people's spirits -- and their trips to the mall.
In that mold, Bush emphasized that this is not the first time the economy has been rattled and that he remains certain it will ride out this period as others. He said low unemployment, strong productivity, high exports and a deficit small as a proportion of economic output are proof of the economy's fundamental strength.
"Every time, this economy has bounced back better and stronger than before," the president said.
Delivering this message before the economic club's exclusive, wealthy, largely homogenous membership of top executives had Bush somewhat literallear Stearns.
Bush said he opposed several measures aimed at the housing crisis that are pending on Capitol Hill. They included proposals to allocate $400 billion (euro257 billion) to purchase foreclosed-upon and now-abandoned homes, to change the bankruptcy code to allow judges to adjust mortgage rates, and to artificially prop up home prices.
"The temptation of Washington is to say that anything short of a massive government intervention in the housing market amounts to inaction," Bush said. "I'm deeply concerned about law and regulation that will make it harder for the markets to recover -- and when they recover, make it harder for this economy to be robust. And so we got to be careful and mindful that any time the government intervenes in the market, it must do so with clear purpose and great care. Government actions have far-reaching and unintended consequences."
He also said it would be a mistake to block trade ver the last six years and their health care and energy expenses go up," Democratic Congressman Rahm Emanuel said in a statement. "Under George Bush's recession, middle class families will suffer even more. What we don't need are more speeches outlining more of the same."
In a brief question-and-answer session, Bush took a veiled shot at Democratic presidential candidates Hillary Rodham Clinton and Barack Obama for their criticism of trade agreements they say put American workers at a disadvantage.
"When times are tough, it's much easier to find somebody else to blame," the president said, without mentioning either candidate by name. "And sometimes that somebody else that's easier to blame is somebody in a distant land. ... It's easy politics."
He also was asked whether the United States has an inflation problem, because of rising consumer prices and the weak dollar. Bush did not answer the question directly. "We believe in a strong dollar," Bush said.
Following his speech, he went to a ritzy Upper West Side apartment building overlooking Central Park to raise money for the national Republican Party. The private event pulled in $1.4 million (euro900,000) from about 70 attendees.