BAGHDAD -- Iraqi Prime Minister Nuri al-Maliki vowed Thursday to stamp out "criminals" while clashes between security troops and Shiite militiamen showed few signs to wind down.
In Basra, the epicenter of the ongoing turmoil, fierce clashes kept the streets empty.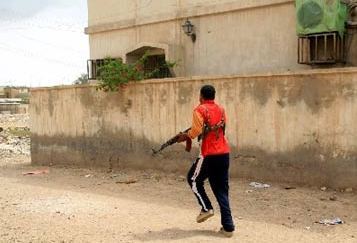 An Iraqi Mahdi militiaman is seen during clashes in the southern city of Basra on March 27, 2008. [Agencies]
Militants of the Mahdi Army, led by Shiite cleric Muqtada al-Sadr, traded fire with security forces in the Ma'qal area, witnesses said.
They once seized a base of Iraq's security troops but withdrew about one hour later.
Related readings:


 Iraq blast lifts crude over $107


 Iraqi PM gives Basra gunmen ultimatum


 Iraqi troops, militias clash in Basra


 Iraq more stable than Afghanistan: Jane's


 US death toll in Iraq hits 4,000


 Attacks kill 57 in Iraq; Green Zone hit
Security sources in the city confirmed that several other clashes erupted during the day, but they refused to provide details as well as casualties.
Maliki, who was overseeing the offensive in the southern city of Basra and has ordered the militants to surrender by Saturday, showed his determination to fight to the end.
"People of Basra have invited us to do our national duty to protect them from the gangs who have terrified them and stolen the national wealth," Maliki said in a statement issued by his office.
"We promise to confront the criminals and gunmen and we will never retreat from our promise," he said.
Unidentified gunmen blew up early in the day a major oil pipeline to the Basra port, which would do great harm to the country's crude export, an official from the Southern Oil Company told Xinhua on condition of anonymity.
The source said that the pipeline carries one-fourth of the crude exported daily from Iraq's southern oil fields.
Repairing the damage will take a long time, the source said without specifying the exact time needed.
The Mahdi Army militia has threatened to set oil wells on fire if the Iraqi security forces would not halt their operations.
A local police source said that Maj. Gen. Abdul Jalil Khalaf, police chief of Basra, survived a roadside bomb attack on his convoy shortly after midnight in the Jubaila area, about 5 km north of the city.
Three of Khalaf's bodyguards were killed in the blast.