TURPAN, Xinjiang - The death toll from a fireworks explosion in northwest China on Wednesday has been revised down from 25 to 24, after the authorities admitted a mistake in the count on Thursday.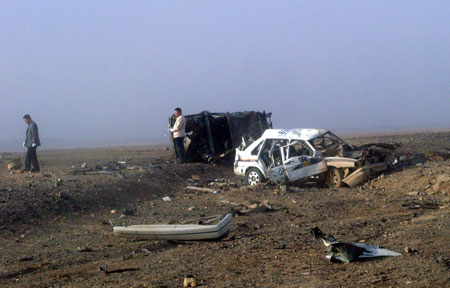 Rescuers work at the site of a fireworks explosion in the city Turpan,  Xinjiang Uygur Autonomous Region, on March 27, 2008. [Xinhua]
Just 13 of the dead have so far been identified and five are still missing after the blast in Turpan City, Xinjiang Uygur Autonomous Region late on Wednesday.
Sun Changhua, secretary of the Turpan Prefectural Committee of the Communist Party of China, told a briefing on Thursday afternoon that six of those identified were of Han ethnicity and the others were of minority groups.
The identities of the other bodies were yet to be established, Sun said.
Rescuers had been collecting the remains from the debris of the explosion and DNA tests were being carried out to identify them.
The accident happened at about 7:00 p.m. Wednesday, when authorities in Turpan city were disposing of eight truckloads of fireworks in the Gobi desert, about eight kilometers from the Turpan tollgate of national highway 202.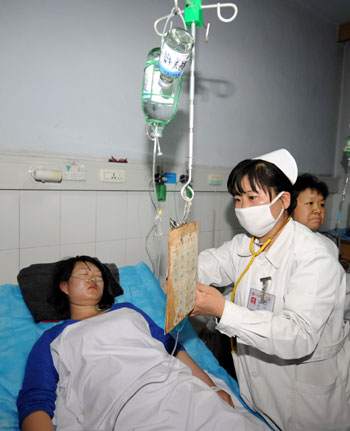 A doctor attends to a woman on Thursday who was injured in the fireworks blast in Turpan. [Xinhua]
Twenty-two people died at the scene and 10 were injured.
The victims were said to be mainly police officers, staff of a local professional explosives disposal company and journalists covering the event.
Among the dead were a journalist from the Turpan Radio Station and a camcorder operator from the local TV station.
Xu Meijuan, one of the injured, was using bathroom when the explosion happened. "I heard a blast and the ground began shaking. Then I was thrown to the ground," she said.
Two of the injured were described as critical, but the rest were all out of danger, doctors said.
Seven of the eight trucks that were used to transport the fireworks were destroyed. A fire caused by the explosion was quickly extinguished.
Sun said the fireworks and other materials had been stored in 904 boxes in Hongqi Fireworks Plant for 10 years. The dry weather in Turpan raised the risk of explosion and the public security authorities decided to dispose of them.
"This is the first serious accident that has ever happened in disposing of fireworks in China," said Sun Huashan, deputy director of the State Administration of Work Safety.
An investigation carried out by China's work safety watchdog has begun.