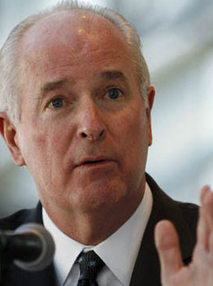 Thomson Corporation President and Chief Executive Officer Richard Harrington speaks to shareholders in Toronto March 26, 2008. [Agencies]
OTTAWA -- Shareholders of Thomson Corp voted Wednesday in favor of its takeover of Reuters Group PLC which is worth 17 billion Canadian dollars (US$17 billion), Canadian Press reported.
The vote was 99 percent in favor of the deal, the biggest in the history of the Canadian-based specialized data company.
Reuters shareholders were to vote on the deal at a separate meeting in London and are also expected to endorse the transaction.
If approved, the new company will be called Thomson Reuters Corp. and will control more than a third of the world market for financial data.
That puts Thomson in head-to-head competition with rival Bloomberg LP in selling data services and analytical and trading tools to Wall Street.
David Thomson, the CEO of Thomson and grandson of founder Roy Thomson, will be chairman of the combined firm.