GREENSBURG, Pa. -- Hillary Rodham Clinton said Tuesday she would have parted company with a minister who talked about America the way Barack Obama's pastor has.
Clinton's comments marked a clear shift in her handling of the Obama church controversy, which she had generally avoided until now. Some Democrats see Obama's refusal to dissociate himself from the Chicago church and its recently retired minister, Jeremiah Wright, as his stickiest campaign challenge so far.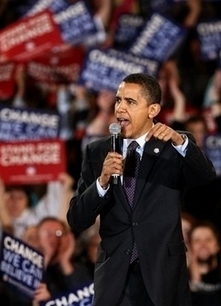 Democratic presidential hopeful Illinois Sen.Barack Obama talks to the crowd at Memorial Coliseum on March 21 in Portland, Oregon. Democrat Hillary Clinton on Tuesday revived the row over the fiery racial rhetoric of Obama's former pastor, saying she, unlike her White House rival, would have left his church. [Agencies]
"I think that given all we have heard and seen, he would not have been my pastor," Clinton said at a news conference after being asked if Obama should have left the church. She declined to say what Obama should have done, or whether the subject is now a legitimate topic for her appeals to Democratic superdelegates, the party leaders who will decide whether she or Obama will be the presidential nominee.
Over the years, Wright has preached fiery sermons to his predominantly black congregation in which he shouted "God damn America" for its treatment of minorities. He has said the US government invented AIDS to destroy "people of color." He also suggested that US policies in the Middle East and elsewhere were partly responsible for the 2001 terrorist attacks on New York and Washington.
Videos of the remarks have circulated widely on the Internet and news programs.
While politically controversial, Wright is renowned for leading the church's long fight against poverty, homelessness, AIDS and racial oppression. He attended a White House prayer breakfast in September 1998 and shook hands with President Clinton. The Obama campaign has provided reporters a copy of a photo of the former president and Wright from that meeting.
In a highly publicized speech last week, Obama sharply condemned Wright's remarks and the preacher's refusal to acknowledge progress in race relations. But the Illinois senator refused to repudiate his longtime spiritual mentor, saying he could no more disown Wright than he could disown his white grandmother.
Clinton was ready for the question at her news conference, and read much of her response from notes, unlike her handling of other questions.
"We don't have a choice when it comes to our relatives," she said. "We have a choice when it comes to our pastors and the churches we attend. Everyone will have to decide these matters for themselves. They are obviously very personal matters."
If Wright were her pastor, she said, "the choice would be clear."
Emphasizing that she was saying only how she would have dealt with a minister such as Wright, Clinton added: "I don't think that's negative."
Her comments closely tracked those she made earlier in the day in an interview with the Pittsburgh Tribune-Review. She and Obama are competing for votes in Pennsylvania's April 22 primary.
Clinton indirectly compared Wright's comments to those of radio shock-jock Don Imus, who lost his job as a prominent program's host after making a racial slur about the Rutgers women's' basketball team.
Clinton noted that she condemned Imus in a speech at Rutgers.
"I said it was time for standing up for what is right, for saying enough is enough," she said of the speech. "While we of course must protect our right to freedom of expression, it should not be used as a license to demean or humiliate our fellow citizens."
Obama spokesman Bill Burton said in a statement, "It's disappointing to see Hillary Clinton's campaign sink to this low in a transparent effort to distract attention" from her acknowledgment that she had exaggerated an account of a hostile reception in Bosnia as first lady in 1996.
Obama has "spoken out against his pastor's offensive comments and addressed the issue of race in America with a deeply personal and uncommonly honest speech," Burton said.