From hosting the Olympics to the planned launch of the Shenzhou VII manned spacecraft, many Chinese are seeing the year as one with national achievements they can be proud of.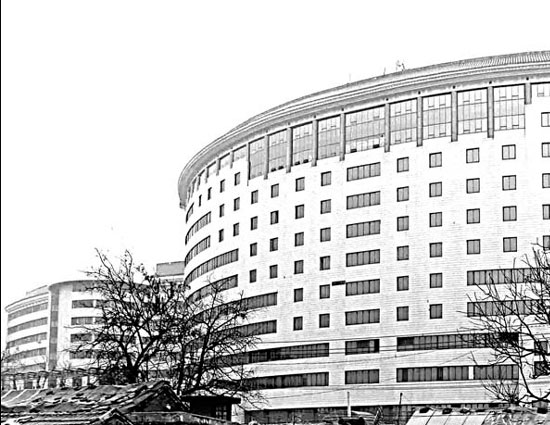 Slums in Dongcheng district, Beijing. Many Chinese do not consider their country a superpower, with development concerns taking priority. [File/photo]
Still, despite booming economic growth and influence over the past three decades, many Chinese do not consider the country a world superpower, a recent survey has showed.
The survey, by social research company Horizon Research, polled more than 3,000 residents in 10 cities including Beijing, Shanghai and Guangzhou.
Close to 60 percent of those polled thought the country should strengthen collaboration with international organizations or other countries in a wide range of global issues - as a supporter or coordinator rather than a leader.
About six in 10 said they did not consider the country as a superpower, while about 22 percent said the country will never become one.
Another 20 percent said the country's journey to becoming a superpower would take more than two decades.
"It is a very normal attitude among Chinese citizens, to actively participate in international affairs, but not necessarily to do so as the leader," said Wang Yizhou, deputy director of the Institute of World Economics and Politics under the Chinese Academy of Social Sciences (CASS).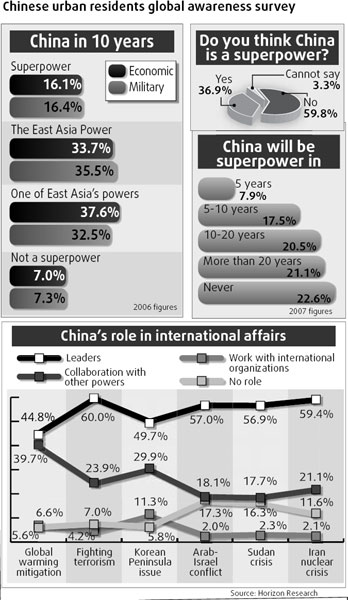 "The Chinese people wish for their government to work with other countries to achieve global objectives, but they don't want to become the flag-raiser."
Wang said such a mentality is a legacy of former State leader Deng Xiaoping, whose foreign policy, put forward three decades ago when the country started on its opening-up and reform, has been carried on by his successors.
"According to Deng's theory, when it comes to foreign policies, China is to participate, not to lead, not to have enemies," Wang said.
The approach has had profound influence on many Chinese politicians, think tanks and the public, Wang added.
However, what has changed is the level and scale of fields that the country has participated in on the global stage, given its development into an economic power from one of the world's poorest countries, Wang said.
The country's overseas presence and interests are gradually expanding as well, Wang said.
Chinese overseas students, for instance, account for one-seventh of the world's total number of overseas students, while the number of outbound tourists keeps rising, he said.
"China has become more visible on the global stage," he said.
Global concerns such as climate change and the nuclear issue on the Korean Peninsula have shown that the views of Beijing and its willingness to act on them have become prerequisites to any solution, Wang said.
This trend has in turn raised the global vision and awareness of the Chinese, the expert said.
"This is a time when China is expected to play a larger role in many global issues," Wang said.
At the same time, experts said the survey has shown that more should be involved in assessing the power and influence of a country.
Yan Xuetong, head of the Institute of International Studies at Tsinghua University, said an accurate assessment of a country's power depends on its economic, military and political spheres, in addition to its cultural and intellectual prowess.
While there was no doubt that the country had risen to become an economic power in the past two decades, its military force has been weakened in that time and its political clout, if analyzed from its global influence, has come to a standstill, Yan said.
As a permanent member of the United Nations Security Council, China should help maintain world peace, strengthen its democracy and seek prosperity for its own people, said Wang Yusheng, a Beijing-based researcher of international relations.
"Labeling China as a superpower is not in line with the country's goals," he said.