WASHINGTON - Barack Obama and Hillary Rodham Clinton split a pair of New England primaries Tuesday night and sought bigger prizes in Ohio and Texas in a riveting Democratic presidential race. Arizona Sen. John McCain, a political maverick and unflinching supporter of the Iraq War, clinched the Republican nomination.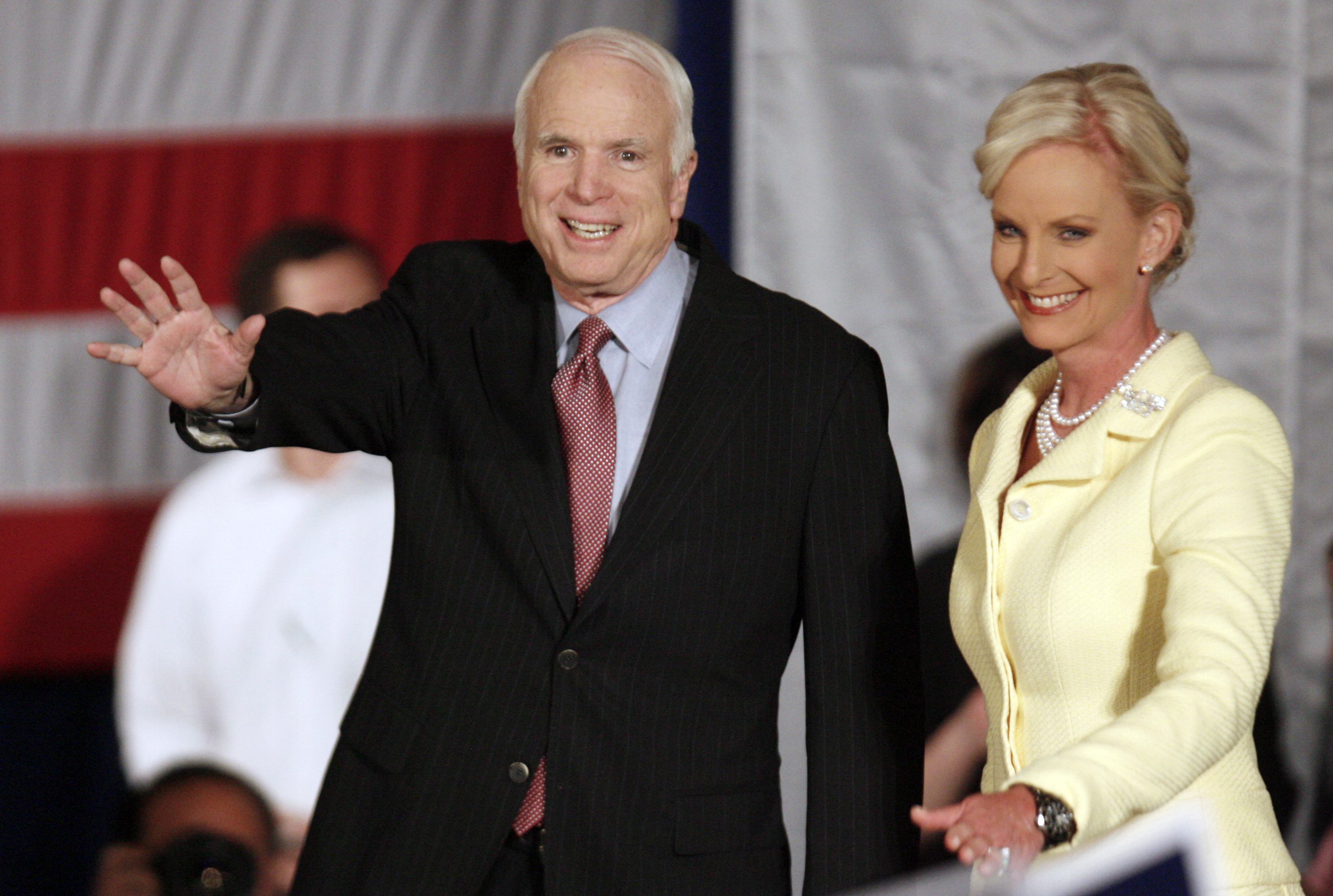 Republican US presidential candidate Senator John McCain (L) (R-AZ) and his wife Cindy arrive at his Ohio and Texas primary election night rally in Dallas, Texas March 4, 2008. McCain won the Republican nomination. [Agencies]
Obama won the Vermont primary, gaining nearly 60 percent of the vote for a 12th straight victory over the former first lady.
She countered quickly, winning in Rhode Island, where she was collecting about 53 percent of the vote.
Special coverage:
2008 US Presidential Election
Related readings:


 Obama, Clinton duel in Ohio, Texas


 Clinton, Obama face reckoning


 Clinton, Obama battle to end in Ohio, Texas races


 Obama slams Clinton on homestrech


 Hillary Clinton raises $35m in Feb


 Clinton to press ahead after primaries
Ohio and Texas were the big trophies of the night, rich in delegates with the potential to prove decisive in the Democratic race.
The onus was on Clinton to break through after a string of setbacks, but her challenge was compounded by Obama's growing lead in the delegate chase.
Obama took an early lead in Texas based almost entirely on a record outpouring of votes cast before primary day.
The Ohio count was delayed by heavy voting that kept some polls in Sandusky and Cleveland open for 90 minutes past the scheduled 7:30 p.m. close.
McCain, 71, gained the 1,191 delegates needed to win the Republican nomination, completing a remarkable comeback that began in the snows of New Hampshire eight weeks ago. President Bush invited him to lunch ? and an endorsement ? at the White House on Wednesday.
McCain's last remaining major rival, former Arkansas Gov. Mike Huckabee, conceded defeat after a campaign that included a stunning victory in the leadoff Iowa caucuses on Jan. 3. "My commitment to him and the party is to do everything possible to unite our party, but more important to unite our country so that we can be the best we can be," Huckabee said in Irving, Texas.
For McCain, success came on his second try for the White House. He lost the GOP nomination to Bush in 2000.
"The most important race begins," he said in an Associated Press interview, looking ahead to a fall campaign against either Obama or Clinton, with the country fighting an unpopular war and on the brink of a possible recession.