WASHINGTON - Barack Obama defeated Hillary Rodham Clinton in the Vermont primary Tuesday night, and the two Democratic rivals dueled in Ohio, Texas and Rhode Island in a riveting race for the party's presidential nomination. John McCain edged close to the delegates needed to secure his Republican triumph after a decade's struggle.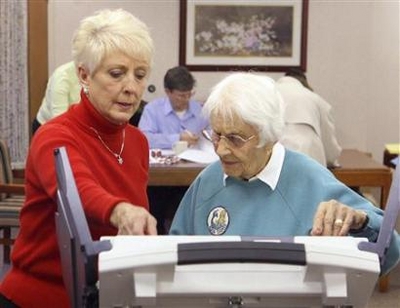 Ohio election volunteer Nancy Swick (L) assists voter LaVerne Buesch complete her voting process at a polling station in Medina, Ohio March 4, 2008. [Agencies]
Obama was gaining nearly 60 percent of the vote in Vermont for his 12th straight victory over the former first lady, leaving her desperate to rebound later in the night in the other three states holding elections.
McCain added first Vermont, then Ohio to his column in the Republican race, and moved to within about 130 of the delegate total needed to clinch the nomination. Aides readied a giant banner bearing the magic number — 1,191 — to serve as a backdrop for an anticipated victory celebration in Dallas, and President Bush invited the Arizona senator to the White House for a show of support on Wednesday.
The Associated Press made its calls based on surveys of voters as they left the polls.
In the Democratic race, Obama took an early lead in Texas based almost entirely on votes cast before primary day.
The Ohio count was delayed by heavy voting that kept some polls in Sandusky and Cleveland open for 90 minutes past the scheduled 7:30 p.m. close.
In all, there were 370 Democratic delegates at stake in Rhode Island, Vermont, Ohio and in Texas, which used an unusual primary-caucus system.
Hispanics, a group that has favored Clinton in earlier primaries, cast nearly one-third of the Election Day votes in Texas, up from about one quarter of the ballots four years ago, according to interviews with voters as they left their polling places. Blacks, who have voted heavily for Obama this year, accounted for roughly 20 percent of the votes cast, roughly the same as four years ago.
The economy was the No. 1 concern on the minds of Democratic voters in Texas, Rhode Island and especially in Ohio. But in Vermont, almost as many voters said the war in Iraq was their top concern.
More than three-quarters of Ohio Democrats said international trade had cost their state more jobs than it had created.
Roughly six in 10 of the Democrats who were questioned outside the polls Tuesday said that so-called superdelegates, who are party officials, should vote at the national convention based on the results of primaries and caucuses. That was unwelcome news for Clinton, who trails Obama among delegates picked in the states but holds a lead among superdelegates.
After 11 straight victories, Obama had the momentum and the lead in the delegate chase in The Associated Press count, 1,389-1,276.
His margin was larger — 1,187-1,035 — among pledged delegates chosen in primaries and caucuses. The former first lady had an advantage among superdelegates, but Obama picked up three during the day, narrowing her advantage to 241-202.
Time was running out for Clinton — if it hadn't already.
Some of her supporters, her husband the former president among them, said she needed to outpoll Obama in both Texas and Ohio to sustain her candidacy.
Without conceding anything, Obama's allies said even that wouldn't be enough, given his lead in the delegate count and party rules that virtually assure primary losers a significant share of the spoils.
Nevertheless in appearances Tuesday, Clinton sounded like she might continue her campaign if she won only Ohio, and Obama sounded almost resigned to an extension of the nomination battle.
"You don't get to the White House as a Democrat without winning Ohio," Clinton said in Houston.
"My husband didn't get the nomination wrapped up until June (in 1992). That has been the tradition," she added, without mentioning that this year most primaries were held much earlier than in 1992. "This is a very close race."
In San Antonio, Obama called Clinton "a tenacious and determined candidate" and predicted little shift in his delegate lead no matter who won Texas and Ohio, "which means that either way, we'll go on through Mississippi and Wyoming next week." Pennsylvania, the biggest single prize left, follows on April 22.
"All those states coming up are going to make a difference," he said. "What we want to do is make sure we're competing in every single state."
It takes 2,025 delegates to win the Democratic nomination, and slightly more than 600 remained to be picked in the 10 states that vote after Tuesday.
The Democratic marathon was in contrast to a Republican race that was fierce while it lasted, but has long since been settled.
McCain's Vermont victory left him with 1,062 delegates out of the 1,191 needed for the nomination at the party convention next summer in St. Paul, Minn. There were 256 Republican delegates at stake in the four states on the night's ballot.
McCain's sole major remaining rival, former Arkansas Gov. Mike Huckabee, had 257 delegates, and posed no threat.
It was McCain's second run at the nomination, after his loss to George W. Bush in 2000. The Arizona senator was the early front-runner in the GOP race this time, but his campaign nearly imploded last summer. He regrouped, reassuming the underdog role that he relishes, and methodically dispatched one rival after another in a string of primaries in January and early February.