PESHAWAR, Pakistan -- A bomber blew himself up Sunday among thousands of tribal members discussing resistance to al-Qaida and the Taliban, killing 40 people in the third suicide attack in as many days in northwestern Pakistan.
The rash of suicide bombings show President Pervez Musharraf's weakening control of the region despite the deployment of thousands of troops to crush Islamic militants.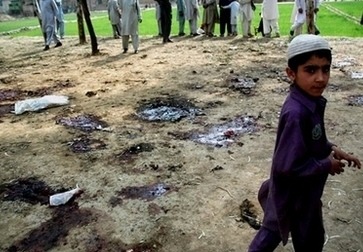 A child walks beside the spot, littered with blood and human flash after a suicide bombing in Adam Khel, about 40 kilometers (25 miles) south of Peshawar, Pakistan on Sunday, March 2, 2008. [Agencies]
Five tribes were meeting to finalize a resolution that would punish anyone who shelters or helps Islamic militants, including al-Qaida and Taliban fighters, Interior Ministry spokesman Javed Iqbal Cheema said.
A young man walked up to a group of elders and detonated his explosives, said Alam Khan, a tribesman at the meeting in Darra Adam Khel, a town in North West Frontier Province about 25 miles south of the provincial capital, Peshawar.
"It was a huge explosion and left body parts and blood scattered on the ground," said Ramin Khan, another participant whose left leg and face were injured. He and others hurt in the attack were brought to a hospital in Peshawar.
Dr. Hamid Afridy, the area's chief medical officer, said he counted 40 bodies and more than 100 injured were sent to the hospital. He said many were in critical condition and feared the death toll could rise.
Television footage showed blood, shoes and caps littering the bombing site -- a tree-lined ground surrounded by wheat fields and only yards away from brick homes.
Musharraf called the bombing an attempt to sabotage tribal efforts to rid the region of militant influence and reiterated the government's "resolve and commitment" in the fight against terrorism.
The attack came two days after a suicide bomber struck at the funeral of a slain police officer in Mingora town in Swat Valley, killing more than 40 people and injuring at least 60. On Saturday, another suicide bombing in nearby Bajur killed one person and wounded 19 others, mostly security personnel.
Friday's bombing was the bloodiest attack in the Swat Valley since militant followers of a pro-Taliban cleric, Maulana Fazlullah, grabbed control of large parts of the scenic corner of Pakistan's restive northwest.
The army says it has retaken most of Swat since Musharraf sent thousands of troops in November, but attacks persist and Fazlullah remains at large.