PROVIDENCE, R.I. - Democrat Barack Obama, on his first visit to Rhode Island as a presidential candidate, sought Saturday to portray Hillary Rodham Clinton as a candidate who shifted positions for political expediency.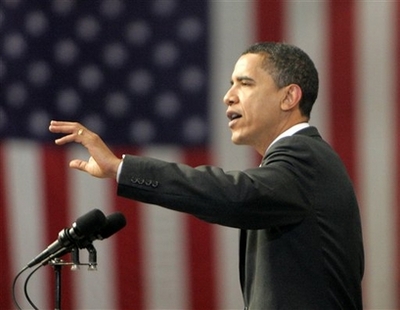 Democratic presidential hopeful, Sen. Barack Obama, D-Ill., speaks during a rally Saturday, March. 1, 2008, in Providence, R.I.[Agencies]
"Real change isn't about changing your position to fit the politics of the moment. And that's the choice in this election," Obama told a packed recreation center as thousands more listened from outside.
Four days ahead of primary contests here and in three other states, the Illinois senator stopped on his way from campaigning in Texas to events in Ohio, the two marquee contests next Tuesday. Vermont also votes.
Obama spoke six days after Clinton came to the same arena and depicted Obama as naive and unrealistic about dealing with tough issues like health care reform and global warming.
In his remarks, Obama challenged his rival's judgment and commitment on trade and foreign policy.
He asserted that Clinton had changed her position to oppose the North American Free Trade Agreement only after deciding to run for president. He also said she waffled on legislation to make it harder for low-income individuals to file for bankruptcy protection.
He depicted himself as having better judgment to deal with a national security emergencies, renewing his criticism of Clinton's October 2002 vote to authorize President Bush to use military force in Iraq.
"Real change isn't voting for George Bush's war in Iraq and then telling the American people it was actually a vote for more diplomacy when you start running for president," Obama said. "The title of the bill was `A Resolution to Authorize the Use of United States Armed Forces Against Iraq.' I knew what it was, Lincoln Chafee knew what it was," said Obama. Chafee is a former Republican Rhode Island senator who was an outspoken opponent of the war.
That line drew big cheers from the crowd.
Clinton, campaigning in Texas, told reporters, "I know that Senator Obama has been complaining that talking about national security is fear-mongering and I could not disagree more."
Not so, Obama told his audience. "People say I'm a `hope monger.'"
Polls show Clinton with a lead in Rhode Island. The Rhode Island primary offers 21 Democratic delegates -- compared with 141 for Ohio, 193 for Texas and 15 for Vermont.