Foreign journalists are "very welcome" in the capital and they have nothing to worry about regarding their work in the country, a top official from the Beijing Olympic Games organizing committee told China Daily on Tuesday.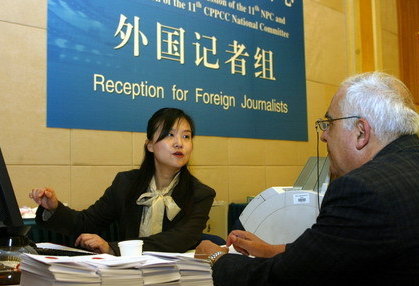 A worker at the new press center for annual sessions of the National People's Congress (NPC) and the Chinese People's Political Consultative Conference (CPPCC) handles an inquiry from Julio Hernandez Blanco, a reporter with Cuba's Latin American News Agency Friday February 29, 2008. [China Daily] 
"Overseas media are very welcome in Beijing and their working conditions in China during the Games are guaranteed by the State Council Decree No 477 and several media guides," Jiang Xiaoyu, executive vice-president of the Beijing Organizing Committee for the Games of the XXIX Olympiad (BOCOG) and a newly elected CPPCC member, said during a group discussion.
"These regulations are the basis for our media services during the Games and they will be implemented strictly around the country, not just in Beijing and the co-host cities," Jiang said.
To meet promises Beijing made during the bid for the 2008 Olympic Games to provide foreign media good working conditions in China, the central government has issued several regulations and media guides to facilitate foreign journalists' activities for Olympic coverage.
Last July, a "One Stop Service" for news coverage of the Olympics and its preparatory period was also launched at the Beijing Olympic Media Center.
Preparations for this summer's Olympics are one of the hot topics at the ongoing CPPCC and 11th NPC, which have attracted 843 foreign journalists, 20 percent more than last year.
The number is likely to rise because press registration will continue until today.
"If any problem occurs, foreign journalists can turn to relevant departments, such as the local foreign affairs offices and the Main Press Center or the International Broadcast Center," Jiang said.
Jiang also offered reassurance to visitors and the public over concerns about heavy traffic during the Games.
The organizers have taken the needs of local people into account, he said.
By the time the Games begin, there will be about 3.3 million vehicles on the streets of Beijing.
To ensure smooth traffic during the event, and enhance air quality in the capital, local authorities plan to take more than 1.5 million cars off the roads.
The government will introduce a ban on government vehicles - similar to the one used during the Beijing Summit of Sino-African Cooperation Forum in 2006, and last August's four-day test of alternating cars with license plate numbers ending in even and odd numbers.
"People won't have to worry about transport problems during the Olympic Games," he said.
However, residents and visitors are encouraged to take public transport during the event.
Additional buses, more than 170 new shuttle routes and three new subway lines will be in use during the Games, Jiang said.