WESTERVILLE, Ohio -- Democrat Barack Obama worked to fend off an intensified attack on his foreign policy credentials from rival Hillary Rodham Clinton on Sunday as their paths crossed two days ahead of a potentially race-ending showdown in Ohio and Texas.
"What precise foreign-policy experience is she claiming that makes her qualified to answer that telephone call at 3 a.m. in the morning?" Obama asked of the former first lady at a town-hall meeting. It was a reference to dueling television ads over who would exercise superior judgment in responding to a national emergency in the middle of the night.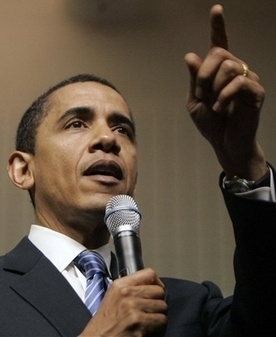 Democratic presidential hopeful Sen. Barack Obama, D-Ill., makes remarks during a town hall meeting Sunday, March 2, 2008, in Westerville, Ohio. [Agencies]
The Illinois senator also sought to ease lingering Internet-fed concerns about his religion, in particular whether he was a closet Muslim.
"I am a devout Christian. I have been a member of the same church for 20 years. I pray to Jesus every night," he declared at an earlier appearance in the rural southern Ohio town of Nelsonville. He said he wanted to halt "confusion that has been deliberately perpetrated."
Unlike Clinton, who has been barnstorming Ohio, Obama had only two events in the state on Sunday and was spending the night in hometown Chicago. He heads to Texas on Monday for a final day of campaigning before awaiting returns on Tuesday in San Antonio.
His aides said privately that they felt they had a good shot at a win in Texas, but were less certain about Ohio, where they braced for a possible loss.
The two senators came close to running into each other in this Columbus suburb, where Clinton spoke at one high school and Obama spoke several hours later at another. Obama supporters boasted of a much larger crowd.
Obama said his opposition to the war in 2002 was not a single speech — as Clinton has asserted — but a series of remarks during his 2002 successful Senate campaign.
Obama criticized Clinton expressly for failing to read the classified National Intelligence Estimate on Iraq's weapons capabilities, a report available at the time of her October 2002 vote authorizing the Iraq war. "She didn't give diplomacy a chance. And to this day, she won't even admit that her vote was a mistake — or even that it was a vote for war," Obama said.
"When it came time to make the most important foreign policy decision of our generation the decision to invade Iraq Senator Clinton got it wrong," Obama said.
He said that Sen. Jay Rockefeller, a fellow Democrat from neighboring West Virginia, had read the intelligence estimate as a member of the Senate Intelligence Committee. However, Rockefeller wound up voting for the war resolution.
Rockefeller, who is now chairman of that committee, endorsed Obama on Friday and campaigned with him on Saturday.
Rockefeller called Obama "brilliant" and "well grounded" and prepared to take the reins as commander in chief.
The Obama campaign also lined up a conference call for reporters with various Democratic foreign-policy experts who asserted his ability to inspire and lead, his good judgment on Iraq, and ticked legislative accomplishments. It was an effort to undercut Clinton's claim that Obama foreign-policy experience was shallow.
In addition to foreign policy, Obama talked about economic issues affecting economically depressed Ohio, as had Clinton.
Recent polls show Clinton retains a lead in Ohio, although it has been narrowing. In Texas, her once formidable lead has all but vanished and the race is now seen as a dead heat.
Most Democratic strategists see Texas and Ohio as must-win states if Clinton is to continue her candidacy, a view also expressed by her husband, former President Bill Clinton.
She has lost 11 consecutive contests to Obama and lags in the delete count.
But in recent days, Clinton campaign officials have suggested that if Obama doesn't win all four Tuesday contests — which also include races in Rhode Island and Vermont — it would signal "buyers remorse" and be reason to continue the campaign to the next major primary, Pennsylvania on April 22.