CUCUTA, Colombia -- Venezuela moved troops toward Colombia and turned away cargo trucks at border crossings on Tuesday as tensions mounted over Colombia's strike on a leftist rebel base in Ecuador.
Ecuador also reinforced its border with more troops and sought international condemnation of the attack, which killed a top commander of Colombia's main rebel group and 22 other guerrillas.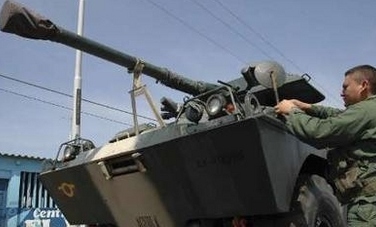 A Venezuelan soldier prepares an armored personnel carrier as it drives through the town of Paraguaipoa towards the border with Colombia, in the western state of Zulia, March 4, 2008. Colombian President Alvaro Uribe accused Venezuela's Hugo Chavez of backing genocide and said he would denounce him in international court, as a diplomatic and military crisis gripped the region. [Agencies]
Colombia said documents found at the rebel base showed the Revolutionary Armed Forces of Colombia were trying to acquire radioactive material that could be used for dirty bombs -- and that Venezuela and Ecuador had deepening ties with the FARC. Venezuelan and Ecuador said Colombia was lying.
The Organization of American States held an emergency meeting in Washington to try to calm one of the region's worst political showdowns in years. Colombia apologized for the attack, but Ecuador wasn't satisfied, calling for OAS to investigate.
Colombian President Alvaro Uribe said the International Criminal Court should try Venezuelan President Hugo Chavez for "genocide" for allegedly financing FARC, listed as a terrorist organization by the US and the European Union. He cited documents in laptops Colombia says were recovered at the jungle camp that apparently refer to a $300 million Venezuelan payment.
Related readings:


 Venezuela, Ecuador deploy troops in Colombia dispute


 Ecuador breaks ties with Colombia


 Chavez warns of war with Colombia


 Ecuador withdraws ambassador to Colombia


 Venezuela army on high alert, Colombia embassy closed
Despite troop movements and saber rattling, Uribe said he would not allow his nation to be drawn into war.
"Colombia has never been a country to go to war with its neighbors," Uribe said. "We are not mobilizing troops, nor advancing toward war."
President Bush accused Chavez of "provocative maneuvers" and said the US stands by the conservative Colombian government, its key ally in a region dominated by leftists. Bush said he personally delivered this message to Uribe during a phone call earlier Tuesday.
Colombia has received some $5 billion in US aid to counter the drug trade and battle leftist guerrillas since 2000.
The attack on Ecuadorean territory reflected Colombia's long-held frustration over the ability of rebels to take refuge across poorly patrolled patrols.
Uribe said he has provided Chavez with precise information on the location of FARC camps in Venezuela -- one of which, he alleged, was home to rebel leader Ivan Marquez.
Chavez warned Uribe that any strike on Venezuelan soil could provoke war. But his forces would be outnumbered: Venezuela and Ecuador have about 172,000 active military troops between them. Colombia's US-equipped, trained and advised military has more than 250,000.
Colombia said documents in Reyes' laptop also indicate that Ecuador' internal security minister met recently with a FARC envoy to discuss deepening relations with Ecuador, and even replacing military officers who might oppose that.