QUITO, Ecuador - Ecuador broke off diplomatic ties with Colombia on Monday following that country's strike against leftist rebels inside Ecuador, the Foreign Ministry said.
"The government of Ecuador has decided to break off diplomatic relations with the government of Colombia starting today," the statement said.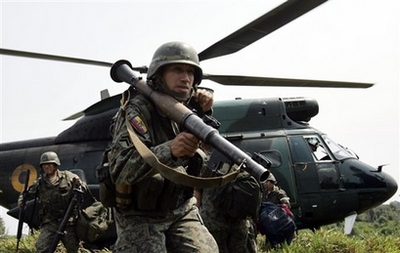 Ecuadorean soldiers arrive at Angostura, next to the Colombian border, in Ecuador, Monday, March 3, 2008. Ecuador President Rafel Correa ordered the expulsion of Colombia's ambassador in Ecuador as Venezuela and Ecuador ordered troops to their borders with Colombia, denouncing the killing of a rebel leader and 16 other Colombian guerrillas at a camp across the border in Ecuador. [Agencies]
Ecuadorean President Rafael Correa earlier on Monday vowed to take "stronger measures" against Colombia following the strike on Saturday that killed a senior rebel leader and 16 other guerrillas on Ecuadorean soil.
"We are before an extremely serious situation ... a foul and lying government that doesn't want peace," Correa said in a news conference, referring to the Colombian government.
The Colombian commando raid that killed Raul Reyes infuriated Correa and his ally, Venezuelan President Hugo Chavez. Chavez has called Colombia's President Alvaro Uribe a "mob boss" and a "liar." Correa has mobilized thousands of Ecuadorean troops toward the border.
Chavez on Sunday promised Venezuela would respond militarily if Colombia violates its border, where he ordered tanks as well as thousands of troops. He also ordered closed Venezuela's embassy in Bogota.
Correa denied allegations from a Colombian official that a computer seized where rebel leader Raul Reyes was killed Saturday suggested Correa is deepening relations with the Revolutionary Armed Forces of Colombia, or FARC, Colombia's largest rebel group.
The seized computer also contained documents that suggest Venezuela recently paid $300 million to FARC and that the rebels had appeared interested in buying uranium, Colombia's police chief said Monday. Another document suggests that rebels have had financial ties with Chavez since 1992, when he was jailed for leading a coup attempt.
Colombia said military commandos first bombed a camp on its side of the border. It said the troops came under fire from across the border in Ecuador and encountered Reyes' body when they overran that camp.
Correa called that version an outright lie — "It was a massacre," he said.