LONDON -- Princess Diana's former butler told an inquest into her death Monday he believed it was "impossible" that she was murdered on the orders of the royal family.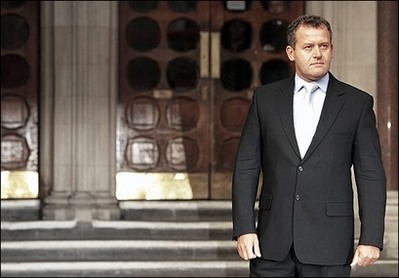 Princess Diana's former butler, Paul Burrell, seen here outside London's High Court, told an inquest into her death Monday he believed it was "impossible" that she was murdered on the orders of the royal family January 14, 2008. [Agencies]
"No, I can't begin to believe that... Knowing the members of the royal family as I do, and knowing them so well, I think that's impossible," Paul Burrell said, under cross-examination.
Burrell also said Diana did not consider Dodi Fayed as "the one" she would marry and was still yearning for a former Pakistani boyfriend she had planned to wed.
Diana had wanted to marry Pakistani heart surgeon Hasnat Khan, with whom she split shortly before her brief relationship with Fayed ended in tragedy in a car crash in August 1997, he said.
In eagerly-awaited testimony, Burrell said Diana's relationship with Fayed was "exciting" for the princess, who had divorced from Prince Charles, the heir to the British throne, in 1996.
"It was very fresh, new and exciting," he told the High Court in London, packed for one of the most high-profile witnesses since the six-month inquest into the deaths of Diana and Fayed opened in October.
But asked by lawyer Ian Burnett: "By that stage had you any sense from the princess that... to use a hackneyed phrase that has appeared in so many media reports, Dodi was 'the one'?" Burrell replied: "No, I didn't have that impression."
Fayed and driver Henri Paul were killed instantly in the Paris car crash, while Diana died from internal injuries a few hours later.
Fayed's father Mohamed al-Fayed, the owner of plush London department store Harrods, claims they were killed by a British establishment conspiracy to prevent Diana marrying a Muslim and having his child.
Burrell was also questioned about a warning by Queen Elizabeth II to "be careful" as there were "powers at work in this country," reportedly made in a meeting with him shortly after Diana's death.
The ex-butler suggested three possibilities for what the queen was referring to: media bosses, the Establishment and the security services. "I think it was a general 'be careful warning' over many issues," he said.
While offering insights about Diana, Burrell also indicated there were limits to what he would tell the court.
"Some secrets will go to my grave," he said when pressed about what Diana might have confided to him.
At another point, he appeared to go back on earlier claims that he had kept a journal of his time working for Diana, saying they were merely notes that had been "destroyed."
Burrell also denied that a ring Fayed bought shortly before their doomed last evening together signified there were wedding plans. "It wasn't an engagement ring, it was a friendship band," he said.
The former butler said Diana had been much more serious about Khan.
"The princess seriously contemplated marriage with Khan. She asked me if it was possible to arrange a private marriage between them. Plans were being made in Kensington Palace for Hasnat to have his own rooms," he said.
Their relationship ended in mid-July 1997, and she headed off for a holiday with Fayed in the south of France. But "the princess was still burning a candle for Doctor Khan," said Burrell.
Rosa Monckton, a close friend of Diana's, suggested that the princess had been "deeply upset and hurt" when Khan broke off the relationship they had tried hard to keep secret in mid-1997.
"She was very much in love with him... She hoped that they would be able to have a future together... She wanted to marry him," she testified last month.
There has been speculation that Khan, who began a two-year romance with the princess in 1995, would give evidence either in person or via videolink to the inquest, which is seeking to determine exactly how and why Diana died.
Khan, 48 -- reported to have been nicknamed "Mister Wonderful" by the princess -- said at the weekend that he did not plan to give evidence.
"I will act on my lawyer's advice. I will do exactly what the law requires. If the lawyers told me I had to go, I would go, definitely. I don't have anything to add," he told The Mail on Sunday newspaper from his home in Pakistan.