US President George W. Bush said Sunday that Iran was threatening security around the world by backing "extremists" and urged its Gulf Arab allies to "confront this danger before it is too late".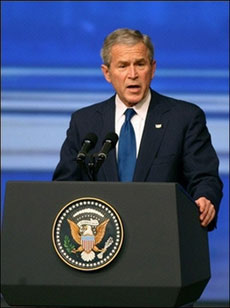 US President George W. Bush, seen here, has warned Gulf Arab allies of the threat from their neighbour Iran and called for their support of Washington's policy goals in the Middle East. [Agencies]
Speaking in Abu Dhabi, the third stop of his tour of Arab allies, Bush said that Shi'ite Muslim Iran was the world's No 1 sponsor of terrorism and accused it of undermining peace by supporting the Hezbollah guerrilla group in Lebanon, Palestinian Islamist group Hamas and Shi'ite militants in Iraq.
"Iran's actions threaten the security of nations everywhere. So the United States is strengthening our longstanding security commitments with our friends in the Gulf and rallying friends around the world to confront this danger before it is too late," he said in his keynote speech which, with the auditorium two-thirds full, received only polite applause at the end.
"Iran is today the world's leading state sponsor of terror. It sends hundreds of millions of dollars to extremists around the world while its own people face repression and economic hardship at home."
Returning to familiar themes that have been at the core of Bush's approach during seven years in the White House, the president praised democratization efforts in the Arab world, but acknowledged "some setbacks". He did not name any country but cited arrests of political opponents.
Earlier in the day, Bush visited the US Navy's Fifth Fleet in Bahrain amid new tensions with Iran over an incident in which Washington says its ships were harassed in the Strait of Hormuz.
The United States says Iranian boats threatened its warships on January 6 along the vital route for crude oil shipments from the world's biggest producing region.
US Vice-Admiral Kevin Cosgriff, commander of the Fifth Fleet, made it clear to Bush his forces took the incident "deadly seriously," White House spokeswoman Dana Perino told reporters.
Related readings:


 Bush visits US Fifth Fleet amid Iran tensions


 Gulf states seek leeway amid US-Iran tug of war


 Khamenei: US won't bring Iran to its knees


 Navy tells Bush Iran incident 'serious'ees
"All of the people in the military remember what's happened in the past such as the USS Cole," she said, referring to the attack on the US warship in Yemen in 2000 using a boat packed with explosives.
During a stop in Israel at the start of his Middle East trip last week, Bush warned Iran of "serious consequences" if it attacked US ships and said all options were on the table.
Bush visits Dubai today before going to Saudi Arabia and Egypt to drum up support for Israeli-Palestinian peace efforts and boost US efforts to isolate Iran.
US should apologize: Iran
Teheran has dismissed the incident in the Strait of Hormuz as routine and accused the United States of exaggerating it for propaganda purposes.
"We exercised restraint and we very calmly announced that this was a routine procedure but they tried to ... raise this issue at the same time when Mr Bush was traveling to the region in order to paint Iran in a negative light," Iranian Foreign Ministry Spokesman Mohammad Ali Hosseini told reporters.
Teheran accused the US of "adventure-seeking" policies in the Middle East and said Washington owed the region an apology for fooling its people over the naval incident.
"What we witnessed shows that some circles inside the United States are still pursuing its adventure-seeking policies," Hosseini told a news conference. His comments were translated into English by Iran's Press TV satellite station.
"But their plans fell flat and we advise them not to pursue such policies of fooling the people in the region and now I think they have to apologize to the people of the region and also to the American nation," he said.
Supreme Leader Ayatollah Ali Khamenei said on Saturday US pressure would not bring Iran "to its knees" in the dispute: "Americans are mistaken by thinking that by pressuring Iran over the nuclear issue they can break Iran."