ST. JOSEPH - Republican White House hopefuls John McCain and Mitt Romney are in a dead heat in Michigan three days before state voters decide their pick for the party's US presidential nomination, according to a poll released on Saturday.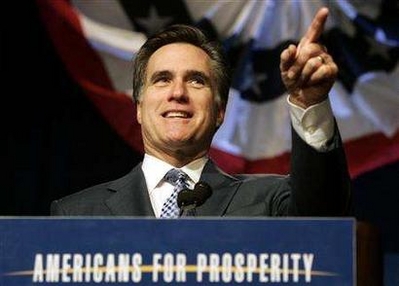 Republican presidential candidate Mitt Romney addresses the crowd during a campaign stop in Livonia, Michigan January 12, 2008. [Agencies] 
The statewide survey shows McCain, a senator from Arizona, at 27 percent and Romney, a former Massachusetts governor, at 26 percent.
The poll of 604 likely Republican voters was taken between Wednesday and Saturday and has a margin of error of four percentage points, making the race a statistical tie.
The economically depressed state is seen as a must-win for Romney because he lost Iowa to former Arkansas Gov. Mike Huckabee and New Hampshire to McCain.
He initially had the edge in Michigan because he was born in the state and his father served as its governor. But McCain won the state's contest in 2000.
Huckabee, who has become popular among conservative Republicans, was third with 19 percent, according to the Detroit News/WXYZ Action News poll.
About 45 percent of likely Republican voters surveyed are undecided or could change their preference, the poll found, with just over half saying they are "very certain" of their vote.
On the Democratic side, Sen. Hillary Clinton of New York leads with 56 percent. But the other top contenders dropped out of the state's contest after Michigan violated party rules by scheduling its primary early.
Some one-third of the 600 likely Democratic voters surveyed said they would vote "uncommitted," which would send delegates to the Democratic nominating convention not backing a candidate.
The nation's eighth-largest state with 10 million residents, Michigan has been bleeding jobs and experiencing a population exodus and could be pivotal in the November election as it could swing to either party's nominee.