CAMP ARIFJAN - The United States is on track to complete the withdrawal of 20,000 troops from Iraq by mid-year, and further reductions will depend on military recommendations, US President George W. Bush said on Saturday.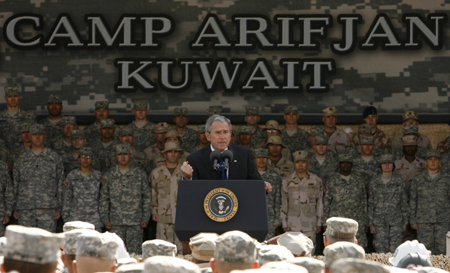 US President George W. Bush speaks to US soldiers based at Camp Arifjan in Kuwait January 12, 2008. [Agencies]
Speaking after meeting his military commander in Iraq, General David Petraeus, and the US ambassador in Baghdad, Ryan Crocker, at a base in Kuwait, Bush said security improvements in Iraq "are allowing some US forces to return home".
"Any additional reductions will be based on the recommendations of General Petraeus," he said.
He urged Iran and Syria to do more to curb violence in Iraq.