BEIJING - Indian Prime Minister Manmohan Singh arrived in Beijing Sunday morning, starting his three-day official visit to China as guest of Chinese Premier Wen Jiabao.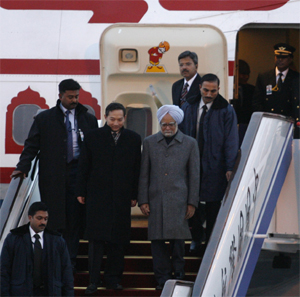 Indian Prime Minister Manmohan Singh (3rd R) arrives at Beijing International Airport January 13, 2008. [Agencies] 
This is Singh's first China visit since he assumed the office of prime minister in 2004.
During his stay, Singh will meet with Chinese President Hu Jintao and top legislator Wu Bangguo, and hold talks with Wen.
Wen and Singh will also attend a ceremony marking the establishment of a China-India joint medical team.
Singh will deliver a speech at the Chinese Academy of Social Sciences, a Beijing-based government think tank.
Prior to his visit, Singh said he came to China "with an open mind to hold free and frank discussions on all issues of common interests with a view to shaping a relationship that befits our two countries and our future generations."