US Pacific Command Commander-In-Chief Timothy Keating Sunday started his second visit to China in less than a year - a trip Chinese observers say would help strengthen military ties between the two countries.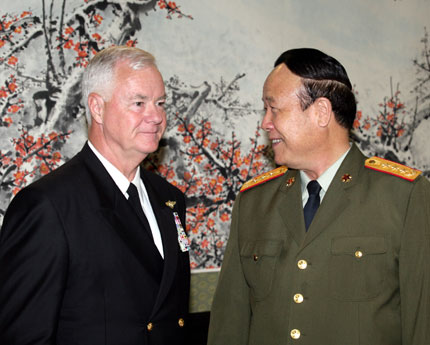 Guo Boxiong (R), vice-chairman of the Central Military Commission, meets Timothy Keating, Command Commander-In-Chief of the US Pacific Command, furing the latter's first visit to China last May. Keating Sunday arrived in Beijing for four-day visit. [China Daily]
The admiral is scheduled to meet with senior foreign affairs officials and high-ranking military officials from the Central Military Commission and the General Staff of the Chinese People's Liberation Army (PLA) today.
Their discussions are expected to focus on China-US military ties, the Taiwan question and international and regional affairs of common concern, defense ministry officials have said.
Related readings:



 Talks with US to boost bilateral ties


 US, don't wreck bilateral relations with tariffs


 Sino-US relations: from bilateral to global


 Sino-US military hotline agreed


 Gates visit could signal military hotline
"China has a positive attitude toward developing military relations with the US and hopes Keating's visit could further enhance understanding, expand consensus and boost cooperation, so as to promote the steady growth of military ties in the new year," a statement from the defense ministry said.
Keating first visited China in May last year after he took command in March. James Shinn, sworn in last Thursday as the new US Assistant Secretary of Defense for Asian and Pacific affairs, was also on the trip.
Before the visit, Keating said he hopes to build on groundwork laid during his last visit to strengthen military ties.
The visit follows US Defense Secretary Robert Gates' visit in November and the China-US annual defense consultative talks, co-chaired by Ma Xiaotian, deputy chief of the General Staff of the PLA, and US Undersecretary of Defense for Policy Eric Edelman last month in Washington.
"We will work with our Chinese counterparts to increase understanding between our militaries, encourage cooperation on mutual security concerns, capitalize on gains we have realized and reduce chances for miscalculation," Keating said.
The four-day visit would also take Keating to Shanghai and Guangzhou, where he is scheduled to visit PLA military institutions and bases and participate in a seminar with Chinese military officials.
The commander's frequent visits to China are of crucial importance for the US in formulating its policies toward China, particularly in military relations, said Tao Wenzhao, a researcher with the Institute of American Studies at the Chinese Academy of Social Sciences in Beijing.
When Gates visited China in November, the two countries agreed to open a direct military hotline, the first of its kind between China and any country at the defense ministry level.
At the China-US annual defense consultative talk in Washington last month, the two sides drew up a road map for this year. Thaey explored a wide range of issues, including cooperation on military archives and exchanges between young officers.
After many years of friction, relations between China and the US have entered a period of strategic stability, said Chu Shulong, a professor of international studies at Tsinghua University.
"As long as the two sides can properly handle the Taiwan question and jointly deal with the threat posed by the Taiwan independence forces, bilateral ties will develop steadily in the coming years," Chu said.
Major military exchanges in the second half of 2007
In late December, China and India launched their first joint military exercise in Kunming.
In November, missile destroyer Shenzhen dropped anchor off Tokyo Bay, the first time a People's Liberation Army (PLA) ship has called at a Japanese port.
In early November, China and the US agreed to open a direct military link between the two defense ministries when US Defense Secretary Robert Gates visited China.
In October, China, Australia and the New Zealand launched joint marine rescue exercises in the South Pacific.
In September, Chinese armed police conducted a three-day joint anti-terrorism drill with their Russian counterparts near Moscow.
China and France launched their first joint naval exercise "China-France Friendship 2007" in the Mediterranean Sea off the southern French port city of Toulon.
In late August, Defense Minister Cao Gangchuan paid a goodwill visit to Japan, the first by a Chinese defense minister since 1998.
In August, the PLA participated in the joint anti-terrorism drill held by the six members of the Shanghai Cooperation Organization codenamed "Peace Mission 2007" in Russia.
On July 24, missile destroyer Guangzhou started a three-month cruise to Russia, the United Kingdom, Spain, and France.