PYONGYANG -- US chief nuclear envoy Christopher Hill said on Wednesday that he was satisfied with the results of good talks with DPRK Foreign Ministry officials, when he was about to leave Pyongyang for Beijing.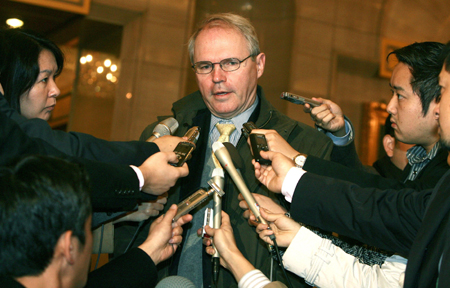 Top US nuclear envoy and US Assistant Secretary of State Christopher Hill speaks to the media before leaving for Pyongyang at a hotel in Seoul December 3, 2007. [Agencies]
"We had a good today's talks and had a full tour of Yongbyon, I would say the disablement activities are going well on schedule," said Hill, also US assistant secretary of state, after he concluded a three-day visit to Democratic People's Republic of Korea (DPRK).
"In Pyongyang, I have an opportunity to...have further discussion with my counterpart vice Minister Kim Gue Guam. We discussed the elements of package for December 31 and accessed the factors of process that have been made. We have to keep working because we have more to do to meet our deadlines," he added.
Both sides also discussed next steps and "factors needed to try to keep the pace and get to the end of this," Hill said.
He also added that he is going to Beijing right now and talk to his Chinese counterpart Wu Dawei... and later report to US State Secretary Condoleezza Rice in Washington.
According to a six-party talks joint document released in Beijing on October 3, the DPRK agreed to disable all the existing nuclear facilities and provide a complete and correct declaration of all its nuclear programs by the end of this year.
The document said the disablement of the five-megawatt Experimental Reactor, the Reprocessing Plant (Radiochemical Laboratory) and the Nuclear Fuel Rod Fabrication Facility in Yongbyon would be completed by December 31.