KABUL, Afghanistan - A suicide bomber rammed his explosives-laden car into a minibus full of Afghan soldiers south of Kabul on Wednesday, killing at least 13 people and wounding 20, officials and witnesses said.
The Taliban claimed responsibility for the attack, which happened on the last morning of Defense Secretary Robert Gates' two-day visit to Afghanistan. It was not immediately clear if Gates was still in the country at the time.
Gen. Mohammad Zahir Azimi, a defense ministry spokesman, said six soldiers and seven civilians were killed in the attack. Four of the civilians were children, said Abdullah Fahim, a health ministry spokesman.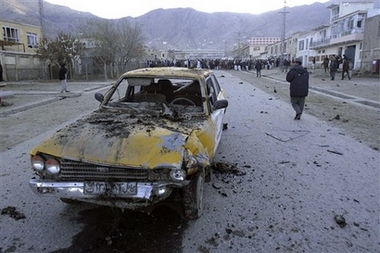 An Afghan police officer walks past a damaged taxi after a suicide bomber targeted a minibus carrying Afghan soldiers, south of Kabul, Afghanistan on Wednesday, Dec, 5, 2007. [Agencies]
The suicide bomber struck a minibus full of soldiers in the Chihulsutoon area south of Kabul, said Aziz Ahmad, an Afghan army officer at the site of the blast.
Purported Taliban spokesman Zabiullah Mujaheed claimed responsibility for the blast in a text message sent to an Associated Press reporter in neighboring Pakistan.
The minibus was demolished and its mangled frame lay on the side of the road as the wounded were whisked to hospitals.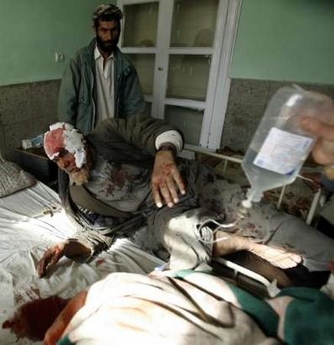 A man wounded from Wednesday's suicide car bomb blast gets onto his bed at a hospital in Kabul December 5, 2007. [Agencies]
The blast was the third suicide attack in the city in the last eight days. It follows a similar attack against a NATO convoy on Tuesday that left 22 civilians wounded.
Local resident Amir Mohammad said he helped load the bodies of the six slain Afghan soldiers into ambulances.
Mohammad Amin, who runs a bakery close to the blast site, said two of his employees were wounded by flying glass.
"Every day this bus stops in front of my bakery to take employees of defense ministry," Amin said. "Suddenly today a very strong explosion hit the bus."
At least 13 civilians were wounded in the attack, according to Fahim, the health ministry spokesman.