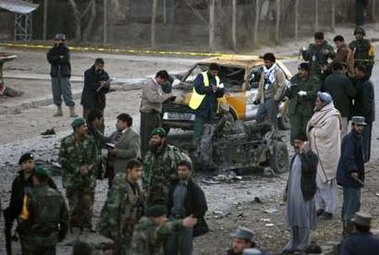 A view from the scene of a suicide car bomb blast in Kabul December 5, 2007. A suicide bomber targeted a bus carrying Afghan army personnel in Kabul on Wednesday, killing at least 13 people and wounding 20. [Agencies]
Mohammad Ashraf, 13, was praying inside a mosque when the flying shrapnel and glass cut through his flesh, his father Mohammad Akram said.
"My other 8-year-old son was also wounded in the same mosque," Akram said.
There has been a spate of attacks in recent months on buses carrying Afghan security forces as they commute to work in the morning.
On September 29, a suicide bomber blew himself up inside an army bus in Kabul, killing 28 soldiers and two civilians. In June, another bomb ripped through a bus carrying police instructors in Kabul, killing 35 people.
Militants have launched more than 133 suicide attacks this year — a record number. At least 6,200 people have died in insurgency-related violence in 2007, also a record, according to an Associated Press tally of figures from Afghan and Western officials.
Suicide attacks frequently target international and Afghan security forces, but most of the casualties are civilian passers-by.
In southern Afghanistan, US-led coalition troops killed several Taliban militants during raids on compounds in Garmser district on Wednesday, the coalition said in a statement.
The troops "targeted an individual believed to be associated with weapons smuggling operations in the province," it said. "While performing a search of one of the compounds, coalition forces killed several armed militants who posed an imminent threat."
Separately, an explosion struck a patrol of NATO-led troops in southern Afghanistan on Tuesday, leaving one soldier dead and two others wounded, the alliance said in a statement.
CHRONOLOGY-Attacks in Afghan capital Kabul in 2007
The hardline Islamist Taliban have killed at least 200 civilians in more than 140 suicide attacks this year around the country in a campaign to oust the pro-Western Afghan government and eject foreign troops.
Here is a timeline showing some of the attacks in and around the capital Kabul since June this year.