PYONGYANG - Chief US nuclear negotiator Christopher Hill arrived here Monday in the latest US effort to inspect the disablement of the main nuclear facilities in the Democratic People's Republic of Korea (DPRK).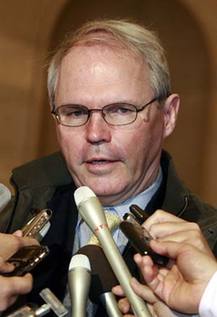 Top US nuclear envoy and US Assistant Secretary of State Christopher Hill speaks to the media before leaving for Pyongyang at a hotel in Seoul Dec. 3, 2007. [Agencies]
Hill, also US assistant secretary of state, told Xinhua at the airport that he will focus on the issue of Pyongyang's declaration on its nuclear program during his second trip here in six months.
Hill made the trip amid rising doubts about when and how the DPRK will dismantle its nuclear program.
"We are getting to the end of phase two, it's been a very important phase," said the head of the US delegation at the six-party talks, adding "we need to make sure it ends very well."
He is going to brief the DPRK side on "what we're doing and should do for fulfilling our responsibilities," said Hill, who was greeted at the airport by a deputy director of DPRK foreign ministry's America bureau.
"I'm going to be trying to get a briefing on how the DPRK is doing on its responsibility... and looking forward to seeing the declaration soon," he added.
Hill said he is going to Yongbyon Monday to see how the disablement is progressing.
The DPRK said last Friday that it is fulfilling its obligation on the disablement of the Yongbyon nuclear facilities under the agreement reached at the six-party talks.
Regarding the alleged uranium enrichment program and when the DPRK will make a declaration of dismantling its nuclear program, Hill said "we'll continue to have a discussion on that, with the understanding that we can resolve this matter by the end of the year."