SEOUL -- The Prime Ministers of South Korea and the Democratic People's Republic of Korea (DPRK) vowed to produce "positive results" in the on-going prime ministerial talks.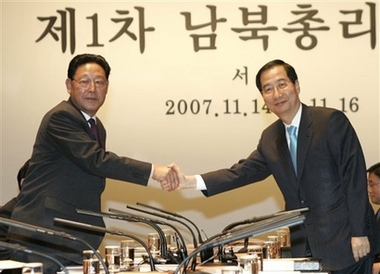 North Korean Premier Kim Yong Il, left, shakes hands with his South Korean counterpart Han Duck-soo, right, during the inter-Korean prime ministerial talks at a hotel in Seoul on Wednesday November 14, 2007. [Agencies]
"I am about to hold what will be a historic meeting with Mr. Prime Minister (of South Korea) and I think this meeting will go very well," said DPRK Prime Minister Kim Yong-il at a plenary meeting between the delegations of South Korea and the DPRK.
Kim, 63, described the joint declaration adopted in October's inter-Korean summit as a "milestone" that would open up a new era of peace and reconciliation for the divided Koreas, South Korean officials said.
South Korean Prime Minister Han Duck-soo said at the meeting that he hopes to produce a "very concrete" agreement.
The outcome of the inter-Korean summit will be worthwhile only if the agreements between the leaders are implemented, Han said.
At a briefing in the press center for the inter-Korean Prime ministerial talks, South Korean Unification Minister Lee Jae-joung said that Wednesday's plenary meeting between the two sides was held in a "amicable" atmosphere.
"The day's meeting ended amid a good atmosphere, as it began in a very amicable mood and the sides attended it with a very friendly and enthusiastic attitude," Lee said.
"Remembering the emotions we had 15 years ago, we will do our best to make the talks substantial so as to give hope to our people and our brothers in the North (DPRK)," Lee added.
The two sides are expected to reach an agreement during the on-going talks, he said.
Kim, who leads a 43-member delegation, arrived in Seoul early Wednesday for the three-day talks.
Officials of the two sides will resume talks early Thursday while Kim will visit the National Museum in central Seoul on Thursday, according to Lee.
It was the first time for South Korea and the DPRK to hold prime ministerial talks in 15 years.
According to South Korean officials, the two sides will focus on follow-up measures to agreements reached at October's inter-Korean summit during the prime ministerial talks, such as detailed measures for inter-Korean economic cooperation.