Detained Pakistani opposition leader Benazir Bhutto called Tuesday for President Pervez Musharraf to step down as president, isolating him in the run-up to a general election.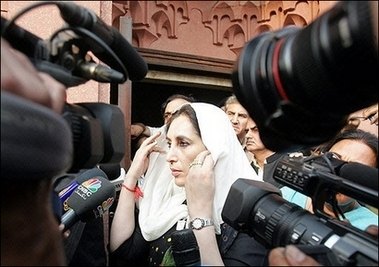 Former Pakistani prime minister Benazir Bhutto speaks with media representatives outside the tomb of Pakistan's national poet Allama Mohammad during her visit in Lahore, November 12, 2007. [Agencies]
Bhutto has long called for Musharraf to step down as army chief and become a civilian president, but it was the first time she had called for him to quit as president altogether.
She also said she could never serve as prime minister under him and her party might boycott general elections Musharraf has promised to hold by January 9.
"It is time for him to go. He must quit as president," Bhutto, who has for months held power-sharing negotiations with Musharraf, said in a telephone interview.
"I will not serve as prime minister as long as Musharraf is president," she said.
She was speaking from the city of Lahore where she was placed under house arrest for a week, hours before a planned protest procession against emergency rule.
Bhutto's party said 1,500 activists had been detained to thwart the "long march" motorcade from Lahore to Islamabad.
Nearly 20,000 police were out in Lahore and about 4,000 of them moved in overnight around the house where Bhutto is staying, laying out coils of barbed wire and barricades and blocking streets with sand-laden trucks.
"Her residence is an official jail now," said a senior officer. A detention order was pasted on the gate.
Clusters of supporters turned out and police detained many of them but there was no major violence in Lahore.
Musharraf has come under growing pressure from Western allies to set Pakistan back on a path to civilian rule.
British Foreign Secretary David Miliband said yesterday that emergency rule must be lifted within 10 days.
Asked if the British government backed a call by Commonwealth ministers on Monday that military rule must end by November 22, Miliband said: "Absolutely, the Commonwealth position was one that the UK played an important part in creating."
Ministers from several Commonwealth countries, including Britain, threatened Pakistan with suspension from the group unless Musharraf repeals emergency laws, restores the constitution and steps down as army chief by November 22.
"That's why the 10 days has become important," Miliband told BBC radio.
Agencies