LONDON - Should Pakistan fail to lift the state of emergency before November 22, its membership in the Commonthwealth will be suspended, said the 53-nation bloc here Monday.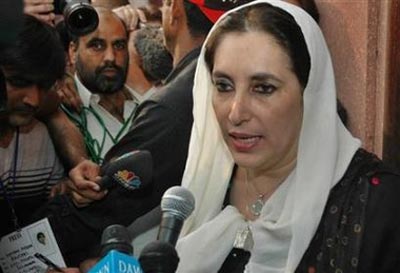 Pakistan's opposition leader Benazir Bhutto speaks to the media after praying at the tomb of Pakistan's national poet Allama Mohammad Iqbal during a visit to Lahore November 12, 2007. [Xinhua] 
In a statement released after the Commonwealth Ministerial Action Group (CMAG) held talks in the British capital, the bloc's Secretary General Don McKinnon said, "(the) CMAG agreed that at its next meeting on November 22, if after review of progress, Pakistan has failed to implement these necessary measures, it will suspend Pakistan from the councils of the Commonwealth."
The bloc welcomed Pakistani President Pervez Musharraf's latest announcement that the country's parliamentary elections will be held before January 9, 2008. But "such elections would not be credible unless the state of emergency is removed and constitutional rights of the people, political parties and independence of the judiciary are restored," said McKinnon.
He added that "the group expressed its concern at the dismissal of the chief justice and several other judges and their placement under house arrest which are deemed to have constituted a severe breach" of Commonwealth principles.
Musharraf declared a state of emergency in his country on November 3 and issued a provisional constitutional order, citing increases in extremist activity and terrorist attacks and abuse by the country's judiciary.
Last Thursday he said he would quit his army chief position before taking oath as Pakistan's president for the second term and also promised to hold parliamentary elections early next year.
Pakistan was suspended from the Commonwealth in 1999 after a military coup and regained its membership in 2004.